Chevy Commercial Vehicles
If you're looking for a vehicle that can stand up to the rigors of construction or logistics, or you just need something to carry a great deal of equipment or people, then your standard truck or van just won't cut it. You need a vehicle that you know has the power and dependability to stand up to the task, whatever that may be. Chevrolet has the most extensive fleet of commercial trucks and vans available today, that there is sure to be one for you no matter your job or vocation. That is because Chevy commercial vehicles are purpose-built to handle specific tasks, whether that is a Low Cab Forward with a flatbed ready to load your container box or an Express Van Cargo with an interior setup for a licensed plumber.
When you buy a Chevy commercial vehicle, you are getting a durable and dependable truck or van that is designed to do the job better than your standard model designed for personal use. That is because the emphasis has been placed on the vehicle's utility over such things as luxury items. Still, they are just as drivable as any other vehicle in the Chevrolet lineup.
View Commercial VehiclesFinanceAbout Us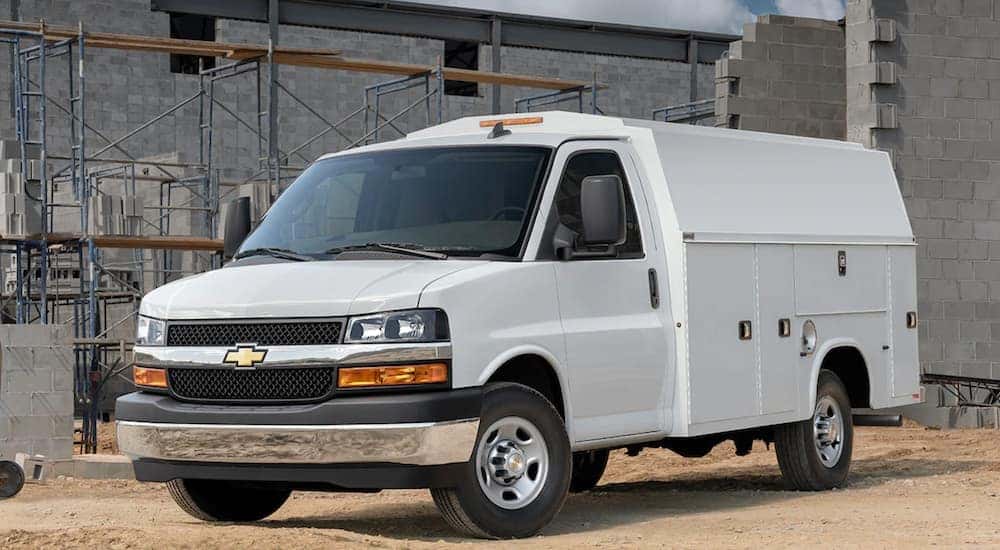 "
Commercial Vehicle Classification
The classification as a commercial vehicle depends on a number of factors. First, the vehicle has to be used primarily for commercial purposes. This can involve things like delivering packages, hauling equipment, towing construction machinery, or transporting people. For example, if your vehicle can carry over 15 passengers, then it is classed as a commercial vehicle. However, if you are only talking about driving a passenger vehicle to and from your place of business, and it seats less than 15 passengers, then it is probably not considered a commercial vehicle. Therefore, your Chevy Suburban wouldn't fall into this category even if its primary role is to just help you get through your daily commute.
There are certain vehicles that are automatically considered commercial vehicles. These include such automobiles as hearses, garbage trucks, limousines, tractors, buses, food trucks, and construction vehicles like bulldozers and steamrollers. These are all designed for a specific task, so they are automatically classed as commercial. Maybe the only exception is for musician Neil Young, who once famously drove a hearse from Canada to Los Angeles when he was first starting out since it was the only vehicle on the used car lot that he could afford.
Another factor is the gross vehicle weight rating (GVWR) of the truck. If it is up to 10,000 pounds, it will be classed as a light truck. These are rarely considered commercial unless their primary purpose is work-related. For example, the passenger version of the Chevy Silverado has a GVWR of between 6,800 and 7,100 pounds, making it a light truck for purposes of determining whether it is classed as commercial. Similarly, the Chevy Colorado has a GVWR of between 5,400 and 6,000 pounds, so it is also not necessarily a commercial truck.
Classes 3 to 6 are considered medium trucks, which range in weight from 10,001 pounds to 26,000 pounds. The Chevy Silverado 2500HD and 3500HD fall into this category, with some of them potentially being considered a commercial vehicle based on usage and configuration. Anything above 26,000 pounds falls into either category 7 or 8 and is considered heavy and extra-heavy trucks. These are almost always classed as commercial vehicles.
You should always keep in mind that if your truck or van is classed as commercial, you will need to place separate vehicle insurance for it. This means that the auto insurance on your personal car, truck, or SUV will not cover the commercial vehicle. In addition, some commercial vehicles require the driver to have a Commercial Driver's License (CDL). Operation by a driver without a CDL is illegal. You should always check with your local DMV to make sure that anyone operating one of your commercial vehicles holds the proper licensing, including a CDL in some cases.

2021 Chevy Commercial Vehicles
Chevrolet has the most comprehensive commercial vehicle lineup on the road today. Some of these are easily recognizable since they are based on the popular lineup of Chevy pickup trucks, including the 2021 Colorado, the 2021 Silverado 1500, and the 2021 Silverado HD. Others do not have a similar private vehicle, so they only appear in their commercial vehicle configuration.
The Trucks
With respect to the three pickup trucks, Chevy has taken each one and designed it specifically for improved overall utility. For example, the commercial version of the popular midsize 2021 Chevy Colorado comes equipped with a 3.6-liter V-6 gas engine paired with an 8-speed automatic transmission. This gives you 308 horsepower and 275 lb-ft of torque, maximizing overall performance. As a result, you can tow up to 7,000 pounds and carry up to 1,550 pounds of cargo in its 49.9 cubic feet bed. The Colorado comes in either extended or crew cab models, so there is plenty of room inside for you and your co-workers, seating up to 5 in either cab.
Similarly, the 2021 Chevy Silverado 1500 has been purpose-built for commercial purposes to maximize towing and cargo. Whether you choose a crew, double or regular cab, your Silverado 1500 commercial truck will give you the power to tow up to 13,300 pounds and carry up to 2,280 pounds of payload. That is because Chevy has equipped the commercial version of the Silverado 1500 with a 6.2-liter V-8 gas engine with durable fuel management and a 10-speed automatic transmission. This strong engine will give you up to 420 horsepower and 460 lb-ft of torque.
There are also some great models of the 2021 Chevy Silverado HD available in commercial configurations. While the Silverado 3500HD comes only in a crew cab configuration, you can get the 2500HD in either regular, double, or crew cab. Whichever you choose, this heavy-duty truck is ideal for commercial purposes, whether you opt for a 6.6-liter V-8 gas engine with a 6-speed automatic transmission or a 6.6-liter Duramax Turbo-Diesel V-8 with an Allison 10-speed automatic transmission. If your job involves trailering heavy equipment, then a commercial version of the 2021 Silverado 3500HD with the Turbo-Diesel may be your best bet as it can tow up to 36,000 pounds.
The Chassis Cab
Chevrolet also offers the Chassis Cab, which is built on the 2021 Silverado 3500HD platform. This provides your choice of the 6.6-liter V-8 gas engine, and the Turbo-Diesel offered on the Silverado HD models. The Chassis Cabs come with a heavy-duty locking rear differential as well as a number of options, including regular or crew cab, front, rear, or combined fuel tank with extra capacity, and either a 60-inch or 84.5-inch cab-to-axle length. Chevy even offers the Chassis Cab with either a utility, dump truck, or flatbed design. Whichever you choose, this is all about strength, as it can carry up to 7,571 pounds of payload.
If you are looking for even greater power, then you should consider the 2021 Silverado 4500HD, 5500HD, or 6500HD Chassis Cab. These are similar to the 3500HD Chassis Cab, but with even greater power. Chevy has boosted the max available gross combined weight rating for these commercial trucks to an astounding 37,000 pounds, increasing hauling capacity by 23 percent over the 2020 models. These also feature a new mechanical locking rear axle to increase traction, especially when driving on slick roads or off-road conditions. As with the 3500HD Chassis Cab, Chevy gives you the ability to configure these to serve the needs of your business best.
The Low Cab Forward
The Chevy commercial truck that is probably least like any other vehicle in the lineup is the 2021 Low Cab Forward. But don't let appearances fool you, as this is just as tough and dependable as any other Chevy commercial vehicle. This fully configurable cab and bed now comes equipped with the 6.6-liter V-8 gas engine, providing a boost in horsepower and torque over the prior year's model with the 6.0-liter V-8 gas engine.
The Express Models

If you are in need of a van, then Chevrolet has the models for you. The 2021 Chevrolet Express comes in passenger, cargo, and cutaway versions. The Express Passenger models can carry either 12 or 15 passengers, providing you with the space you need to see everyone comfortably. The Express Cargo models come with unique interior designs available for contractors, plumbers, and electricians to make their jobs easier.
The Express Cutaway is a cab-only model with your choice of flatbed or box. Each is equipped with one of three engines. The standard is a 4.3-liter V-6 that produces 276 horsepower and 298 lb-ft of torque. There is also a 6.6-liter V-8 with a 6-speed automatic transmission that produces 401 horsepower and 464 lb-ft of torque. Finally, the Express 2500 and Express 3500 Cargo and Passenger models have an available 2.8-liter Duramax Turbo-Diesel I-4 that produces 181 horsepower and 369 lb-ft of torque. No matter which engine you choose, you will have the confidence that your 2021 Chevrolet Express model can help you get your job done right.

"
Get Your Commercial Vehicle From Blossom Chevrolet
Welcome to Blossom Chevrolet. We are your choice for a new, used, or certified pre-owned Chevrolet cars, trucks, or SUVs in Indianapolis, Indiana. Our dealership carries an extensive inventory of all Chevy models, including the ability to help you get any of the 2021 Chevy commercial vehicle lineup. Whether you are in the market for a Silverado pickup truck, an Express van, or a Low Cab Forward, our team will have no trouble helping you find the commercial vehicle you need for your business. Our team of financial professionals will help you get the loan or lease on terms that fit your company's budget. Stop in today and see how Blossom Chevrolet can help you take your business to the next level with Chevrolet Commercial Vehicles.
Get In Touch