10 Cool Features on the New 2021 Chevy Blazer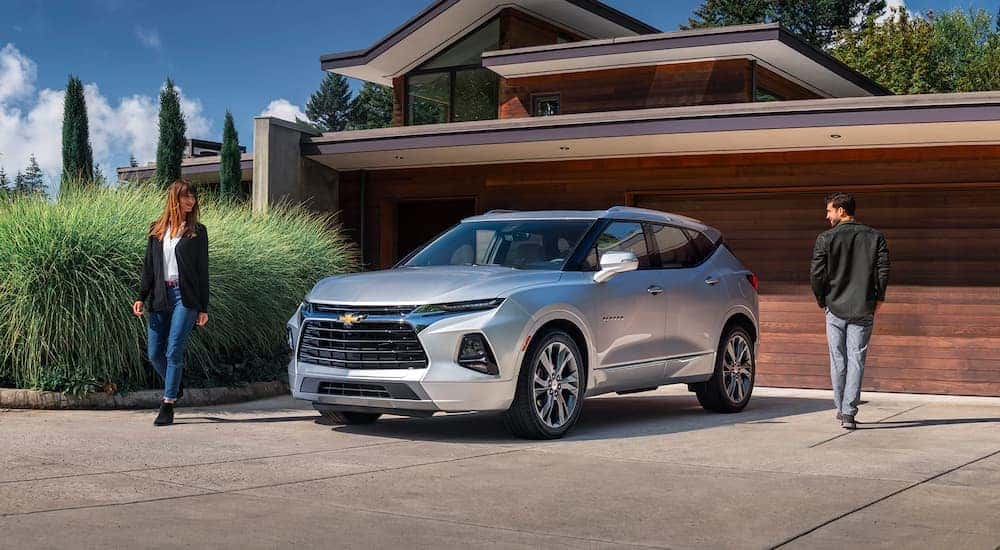 As a mid-size sport utility vehicle, the new 2021 Chevy Blazer is hard to beat. This crossover exudes athleticism with a spunky flair and plenty of advanced features. With available seating for up to five people, the comfortable cabin provides passengers with a smooth ride. If you don't need the seats, they can be quickly folded down to reveal 64.2 cubic feet of cargo space to suit your payload needs. If you have been searching for a "Chevy dealer near me" recently, then you've probably seen a few teasers for the 2021 Chevy Blazer. Our experts here at Blossom Chevy have fallen head-over-heels for this nifty ride, and we want to share our top 10 favorite features with you!
#10 – A Trio of Powertrains
The first thing we'd like to point out is that the new 2021 Chevy Blazer has three different engines to choose from. The first is a robust 2.5-liter I-4 engine mated with a 9-speed automatic transmission and FWD. Generating 193 hp and 188 lb-ft of torque, this unit is perfect for city driving and weekend road trips.
You can also get the 2.0-liter I-4 engine with the same transmission and standard FWD or opt for an AWD option. Producing 227 hp and 258 lb-ft of torque, this powertrain is a lot stronger than the standard powertrain. However, if you want the most power, there is always the magnanimous 3.6-liter V6 motor. This powertrain puts out 308 hp and 270 lb-ft of torque. Find this engine with the 9-speed automatic transmission and either FWD or AWD.
#9 – A New Towing Package
Once able to pull only 1,500 pounds, the new and improved 2021 Chevy Blazer is now able to haul up to 4,500 when properly equipped. This is primarily due to the new towing package that comes with the V6 engine. Known as the VR2 Trailering Package, this addition includes hitch guidance and a heavy-duty cooling system. The thing to note here is that not every model will have this ability. There are a few requirements that must be met in order to get this towing package.
First, the vehicle must be equipped with the V6 engine and FWD. The 2LT, 3LT, RS, and Premier trim levels are all eligible for this package if they are also equipped with the appropriate engine and drivetrain. The 2LT and 3LT trims get the cooling system and hitch guidance, and the RS and Premier models add hitch view to the mix.
#8 – IntelliBeam Headlights
The 2021 Chevy Blazer 2LT, 3LT, RS, and Premier trim levels all come with the Chevy Safety Assist Package. Inside this suite of safety features, you will find IntelliBeam High Beam Assist. The high beams will be turned on automatically at night when no other traffic is detected. Using a sensor located at the top center of the windshield, the system will detect an oncoming vehicle's headlights and switch your high beams off. Also, please note that this system will activate when you are traveling at speeds of 25 mph or higher.
#7 – Forward Collision Alert
Another advanced safety feature that comes with the Chevy Safety Assist Package is Forward Collision Alert. Forward Collision Alert works by using a grille-mounted radar and a front-facing camera mounted to the back of the rearview mirror to detect obstacles that could cause potential front-end collisions. If an obstacle is detected, the system will alert you to take evasive action. The alert will also sound a tailgating alert if it detects that you are following the vehicle in front of you too closely.
#6 – Automatic Emergency Braking
As part of the Chevy Safety Assist Package, Automatic Emergency Braking works with the Forward Collision Alert system to help prevent front-end impacts. If the Forward Collision Alert system has notified you of an impending collision and no evasive action is taken to avoid impact, the Automatic Emergency Braking system will be triggered. It will drastically slow the vehicle down and even bring it to a complete stop when necessary. This feature works when you are driving less than 50 mph.
#5 – Front Pedestrian Braking
Similar to the two features above, the Front Pedestrian Braking system is also included in the Chevy Safety assist Package. It works at slower speeds under 50 mph to detect people crossing the road during the daytime. This system can automatically provide hard emergency braking in the event of a potential collision with a pedestrian.
#4 – Lane-Keep Assist
The last safety feature we will mention is Lane-Keep Assist with Lane-Departure Warning. This is also included in the Chevy Safety Assist Package and is there to help keep you in your lane. If the system detects you are drifting from your lane, it will provide a brief steering wheel turns to alert you to take action. This system will also send out Lane Departure Warnings if necessary. Notably, this system will not activate if you are using the turn signal or the system detects that you are intentionally leaving the lane.
#3 – The Enhanced Convenience Package
The Enhanced Convenience Package is an option to be added to the sporty RS trim level. This package adds heated seats throughout the cabin for warmth during the winter and ventilated front seats for cooling in the summer. The power-adjustable tilt-and-telescoping steering column can be manipulated to suit your height, and driver memory settings can be programmed for your convenience. A premium Bose stereo system with eight high-quality speakers has also been added.
#2 – The Sound & Technology Package
Available on the 3LT trim and higher, the Sound & Technology Package comes with some incredible features. It gets a larger 8-inch high-definition touchscreen interface and the Chevrolet Infotainment 3 Plus Navigation system. Bluetooth connectivity, Apple CarPlay, Android Auto, and a 4G LTE Wifi hotspot are all included for the ultimate experience in smartphone compatibility. You make calls and send text messages hands-free, and you can stream your personalized playlist or navigate through your favorite apps easily.
The Bose 8-speaker sound system is included in this package, as well as a 4.2-inch gauge cluster display. A rearview mirror camera helps you back out of tight or crowded parking spots safely, and HD Surround Vision gives you a 360° look at what's around your vehicle. Also, a 120-volt power outlet has been installed as well as dual USB ports and an SD card reader located inside the center console. In other words, the 2021 Chevy Blazer has everything you could want in a daily driver.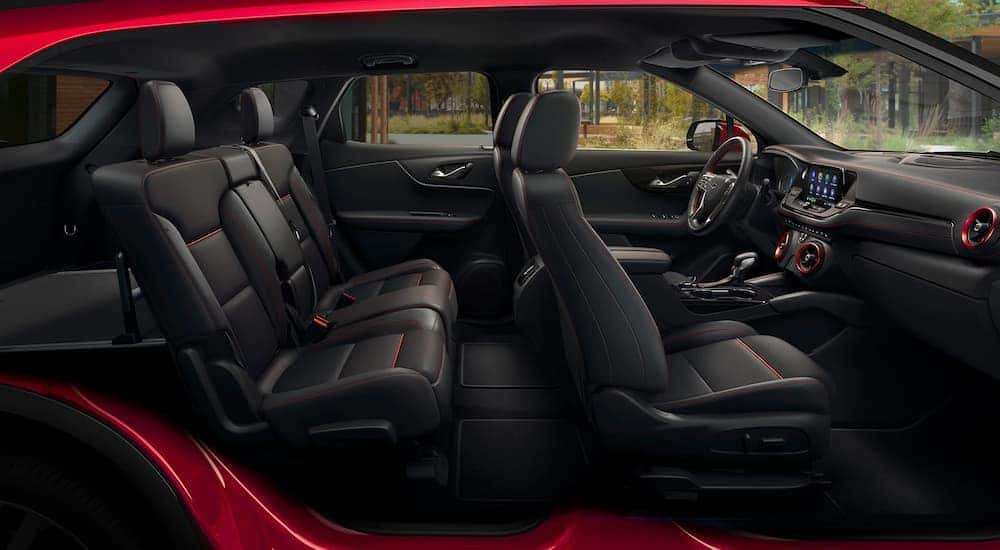 #1 – Drive Mode Selector
One of the cooler features of the 2021 Chevy Blazer is the Drive Mode Selector. This handy dial lets you adjust your vehicle's performance in various conditions and road surfaces. Tour mode switches you to FWD for the most fuel-efficient driving, so use this for your everyday commute. Available All-Wheel Drive mode, if equipped, helps to provide traction when the roads become slippery.
For some more fun, turn the car to Sport Mode to get a sportier feel out of your driving experience. Off-Road mode optimizes the use of the throttle and chassis control systems to help you tackle rough terrain. Finally, the Tow/Haul mode is there to provide assistance when pulling a heavy load.
Find a Chevy Dealer Near You
If you have been searching for a "Chevy dealer near me" recently, then you are in luck! Blossom Chevrolet is the top dealership in Indianapolis, IN. Our experts are well-versed in all things Chevy-related, and our top priority is you. We want to help get you behind the wheel of your dream vehicle today! If you are interested in taking a 2021 Chevy Blazer out for a spin, get in touch with our team to schedule an appointment or get more information.