2020 Chevy Silverado 1500 vs. 2500: Towing Capacity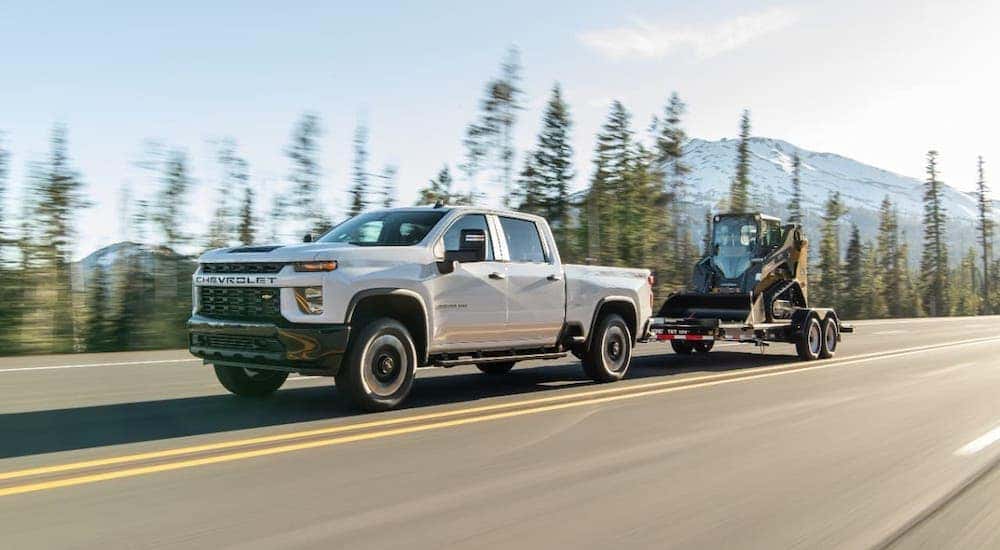 Should you be considering a three-quarter-ton pickup truck? This is no longer a question for only ranchers and construction workers; really, it's a question for everyone. And it's not just the average buyer who should be considering a Chevy Silverado 2500; ranchers and construction workers should be considering the Chevy Silverado 1500 too. Chevy trucks are known for their strength, with the towing and payload capacity needed for work and play, and with the recent and complete redesigns of both their half-ton and three-quarter-ton offerings, they are even stronger for the 2020 model year.
You never know what job you might run into, what travel trailer you might decide to buy, or what lake you might move near. Life has a way of surprising us all. And it's good to be prepared, which is why buying a truck that can handle anything, and is up for any job, is always a good strategy when looking for your next Chevy truck. So even if you don't own a horse now, maybe you will someday, and wouldn't it be nice to already have a truck capable of easily towing a horse trailer? Well, there are many reasons to buy a Silverado 1500 or 2500, and many things to weigh before making an informed decision.
The 2020 Silverado 1500 vs 2500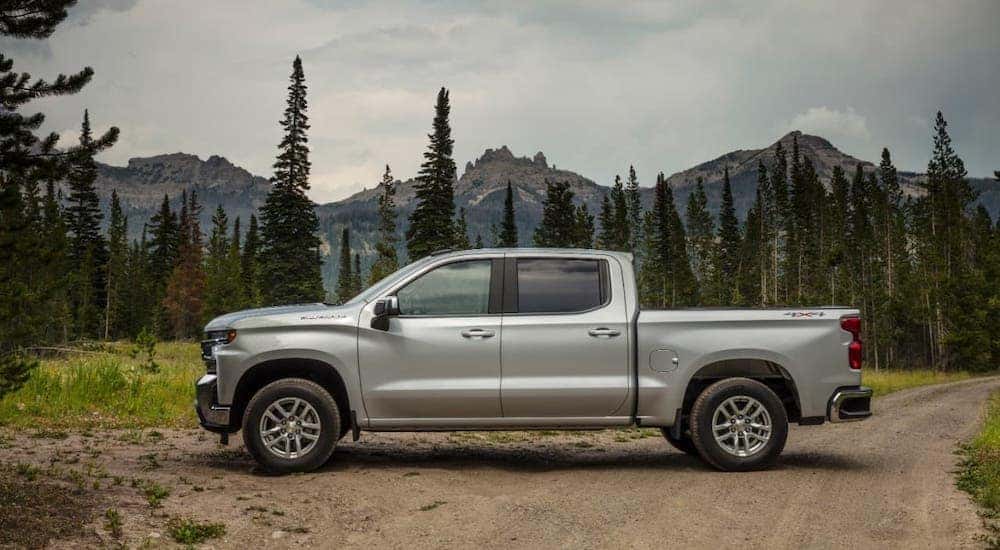 The Chevy Silverado 2500 is all-new for the 2020 model year. The new generation brings a bigger, bolder design, a new 6.6-liter V8 engine as standard, as well as new and innovative trailering technology. It also gives you bragging rights for best-in-class towing ability. And with the recent towing innovations, this is a truck designed for anyone to tow heavy loads. Offering 15 different camera views, the transparent-trailer system makes trailering easy for everyone, whether you tow for work or pleasure. With this system, you can actually see through whatever you are towing. The system is able to link images from a tailgate camera and a trailer-mounted camera to create the illusion. This is a system that makes towing accessible for anyone, regardless of your comfort level.
The Silverado 1500 though, should not be counted out if you need to tow heavy and might need a truck that can handle serious work—and serious play. It's redesign came with the 2019 model year, which brought increased towing and payload capacity, making it an even stronger and tougher Chevy truck, while at the same time, the redesign made it lighter, more fuel-efficient and roomier inside. The 2020 model year furthered its potential with an all-new diesel engine that provides 460 lb-ft of torque while also returning impressive fuel efficiency (23/33 MPG). Offering best-in-class towing capacity, you will be able to count on the Silverado 1500 to be there for you regardless of what life throws at you.
The new diesel engine's impressive torque is ideal for both towing and off-roading, so it's a perfect pairing of excellent work and play capabilities. While you can tow up to 9,600 pounds, you can also take the truck out on the trails on the weekends, and with excellent fuel efficiency, you can use it as your daily driver as well. If you need to tow more, there are plenty of options. This is one advantage of the Silverado 1500. There are six powertrains to choose from. And with a maximum towing capacity of 13,400 pounds, the Silverado 1500 can be counted on for just about any job. So let's take a look at what options you have to customize your truck and if any of these make sense for your needs so that we can see if you should be looking for a Silverado HD instead.
Engine Offerings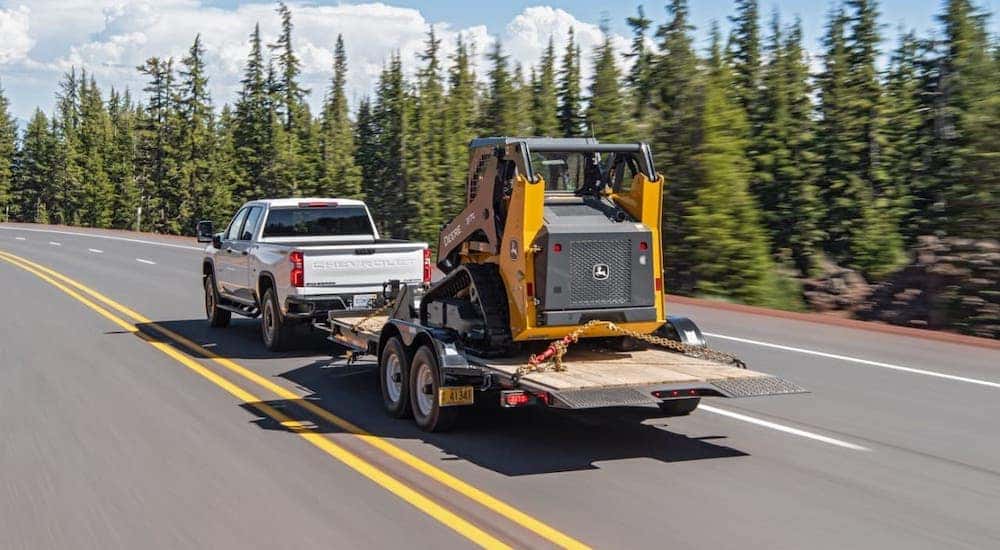 The standard engine is a 4.3-liter V6 paired with a 6-speed automatic transmission. With this engine, you'll get 285 hp and 305 lb-ft of torque while returning 16/21 MPG. This is a great place to start, as it offers plenty of power for most people's needs. You'll find best-in-class torque and up to 7,900 pounds in towing capacity. Not bad for the base offering. You won't necessarily be looking to tow a fifth-wheel trailer, but you will be able to tow some horse trailers, travel trailers, and boats with no problem. Another great option is the 2.7-liter turbo engine with an 8-speed automatic transmission. This engine puts out 310 hp and 348 lb-ft of torque with an impressive fuel efficiency of 20/23 MPG. You can tow up to 7,000 pounds with this powertrain.
If you are looking to ramp up your towing prowess, the 5.3-liter V8 is a great option as it provides serious capability. It also is offered with three choices of transmissions, so you'll be able to find the perfect powertrain. This engine offers 355 hp and 383 lb-ft of torque, and while the fuel efficiency is good for a V8, the transmissions offer even better fuel efficiency options. With the 6-speed automatic transmission, you'll return 15/21 MPG; with the 8-speed, you'll get 17/24 MPG; and with the 10-speed, 17/23 MPG. So you'll have lots of good options to choose from depending on your needs and lifestyle. This engine can also tow up to 11,600 pounds, which gives you even more flexibility when looking for a new boat or travel trailer.
The last option is the one with best-in-class towing capability and the one engine that ventures into three-quarter-ton territory. This is an engine that can tow more than some used 2500 models. With a 6.2-liter V8 (paired with a 10-speed automatic transmission), you'll have an available 420 hp and 460 lb-ft of torque. This is enough power to tow a whopping 13,400 pounds! This engine comes standard on the LT Trail Boss and is optional in the High Country. With an engine like this (and an outstanding 10-speed transmission), you will have the confidence to tow heavy loads and often with your Chevy truck.
The 2020 Silverado 1500 also offers impressive towing tech. There's a great checklist provided, to start, as well as settings for five trailer profiles. You can also monitor the trailer's tire pressure and test the trailer's lights with a smartphone app. And just like the Silverado 2500, you have the option for a transparent trailer, with 15 different views, including directly behind the trailer. Another great feature is an alarm that goes off if the trailer is disconnected when the trailer is locked.
The standard engine for the Chevy Silverado 2500 is a 6.6-liter V8 with 401 hp and 464 lb-ft of torque. This engine is rated to tow up to 17,400 pounds. So even with the standard engine for the 2500, there's a significant increase in towing capability. You'll also want to consider the increased payload when factoring how much you can safely tow. And the Silverado 2500 also has improvements for the 2020 model year that further increase its capability, such as to the axles, prop shaft, and U-joint, which allow for greater loads. With the 6.6-liter turbodiesel V8, and 445 hp and 910 lb-ft of torque, you'll boost your towing capability even more! If you plan to regularly tow heavy loads, this is the engine for you.
With a vast inventory of new, Certified Pre-Owned, and used vehicles, and a state-of-the-art service department, Blossom Chevrolet in Indianapolis, IN, is one-stop shopping for all of your Chevy vehicle needs. Stop by and see which model of Chevy trucks best fits your lifestyle and needs. We pride ourselves in providing excellent customer service for the ultimate car-shopping experience.