A Buyers Guide to the Top Used Trucks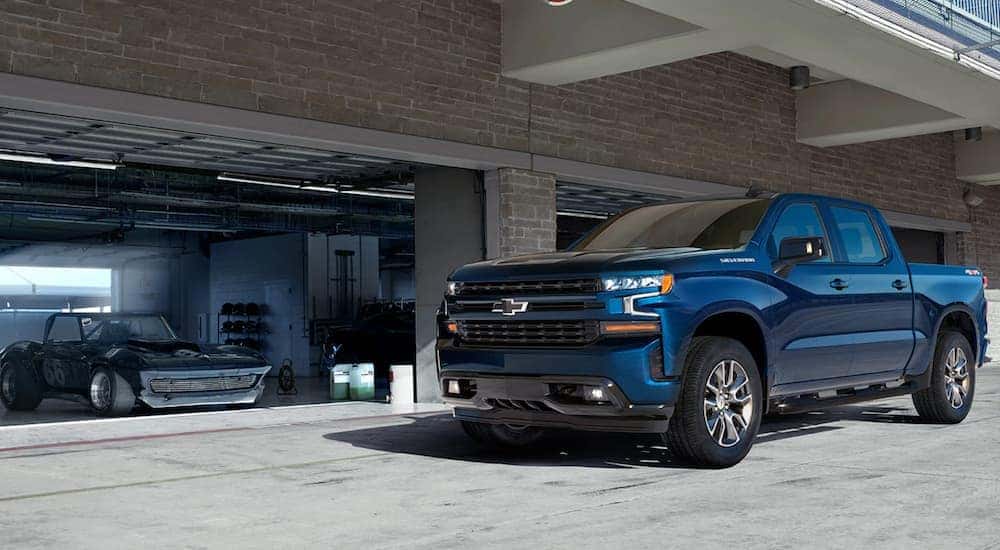 Pickup trucks are versatile vehicles that offer you more strength, capabilities, and options when you need them the most. Helping you power through obstacles with finesse, complete tough work more efficiently, and do so with skill and durability, trucks are popular with many types of drivers. If you're in the market for a truck, you may be weighing your options, knowing that choosing to buy used is the way to go if you're looking to save money and get more out of your vehicle. When you want unmatched performance, combined with reliability and style, no other brand can provide this for you quite like Chevrolet. That's why you'll want to trust in Blossom Chevrolet, the top Chevy truck dealer in Indianapolis, for your next used truck, and we'd like to help with our used truck buyers guide to give you all the insight you need to choose the right truck for you.
How to Find the Best Used Truck
Even one minute of research will tell you that you have a lot of options when it comes to finding a reliable and durable pickup truck. From off-road legends to tough haulers, there are many trucks out there that can complete even the toughest of tasks while offering you maximum efficiency and more. So, how do you find the best trucks in a sea of so many choices? That's where doing a bit of research can help you make the right decision that not only meets your vehicle needs but also works within your budget. Not all used trucks are the same when it comes to capabilities, performance, design, and features, which means choosing from the top options is highly advised.
We've compiled some of our favorite used trucks to help you make a more educated decision when the time comes to buy your next used truck. Combining celebrated reputations, unhindered features, and incomparable reliability, these top trucks won't let you down. So, come on a journey with us as we lead you through our top picks, ranging from heavy-duty haulers to adventurous off-roaders, capable commuters to everyday travelers. You'll see that they all share one common trait, and that is they come from long lines of excellence and are designed to heighten your experience on any type of roadway and beyond.
Chevy Silverado 1500
When you want a rugged warrior that's ready to handle any type of work thrown its way, nothing comes close to the strong and capable Chevy Silverado 1500. Armed with an impressive selection of engines, undeniable performance, and capabilities not found in many other trucks on the road, the Silverado is perfect for any type of commute, any amount of work, and anything else you get yourself into during the day.
With many ways to configure your Silverado, you're able to design the truck that works best for your needs, and with unrivaled towing and hauling capabilities, the Silverado is a top pick for work. There's no doubt that you'll see a Silverado or two on any job site, and for good reason… they're built to perform. When you choose more recent models, you're able to take advantage of stunning trailering tech, safety options, and more ways to make any task easier in any situation you come across during your travels.
Toyota Tacoma
Although we're a little biased when it comes to Chevy trucks, there's no denying a fan favorite, the Toyota Tacoma, recognized as one of the most popular trucks on the road for years. This midsize truck isn't just beautiful to look at; it's a functional and capable option for those looking to complete a wide array of tasks from work to off-roading and everything in between.
With a loyal following, the Tacoma continues to offer superior features, including standard advanced safety tech in newer models, making virtually any model year a good choice if you're looking for reliability, style, and performance. Customize your Tacoma to handle anything, and if off-roading is your pastime, rest assured the Tacoma can hang with the best with its available off-road trims and upgrades. Backed by the Toyota name, which is known for quality, value, and dependability, the Tacoma finds its way onto many lists, and when you want a used vehicle that holds its value and doesn't disappoint, the Tacoma is one of our top choices.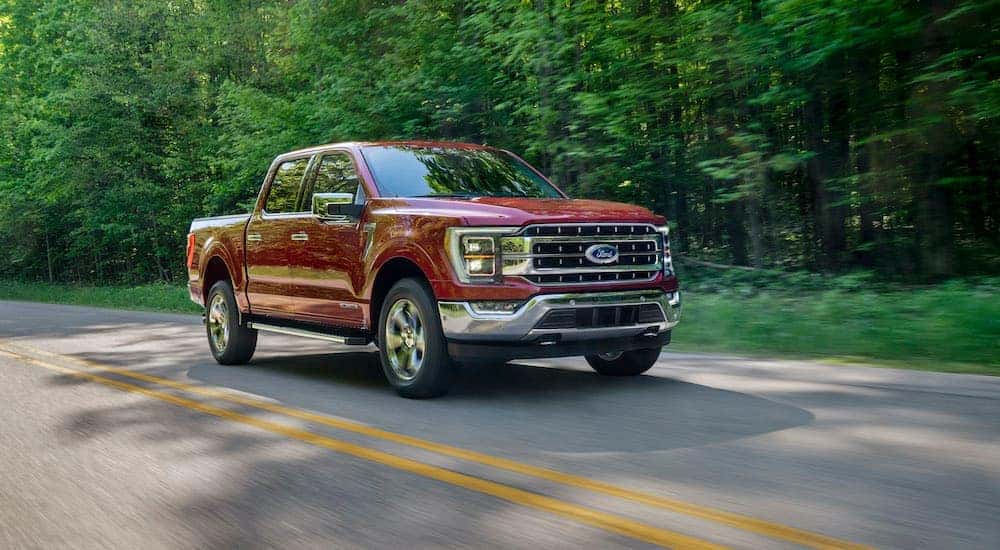 Ford F-150
It's not surprising to see the iconic Ford F-150 on this list, as this truck is known for its reputation of greatness, spectacular performance, and legendary capabilities. When you want one of the toughest trucks around, the F-150 is a great match for your needs, whether they're on the job site, on the trails, or on the city streets. There's nothing the F-150 can't accomplish, and with its unmatched selection of powertrains, unbelievable towing and payload capabilities, and not to mention, stellar style.
The F-150 showcases the best of everything, all wrapped up in its strong physique, which is why it's the most common truck in America. Quite possibly one of the most versatile of the bunch, the F-150 makes the ideal adventurer, commuter, and workmate and is destined to provide you an experience behind the wheel like no other. When you want a pickup that can do it all in the blink of an eye, the F-150's brawn and beauty will undoubtedly impress you.
Chevy Colorado
Another Chevy favorite makes the cut when it comes to top used trucks, and that's the midsize Colorado, perfect for work or for play. This adaptable pickup makes it easy to accomplish a wide variety of tasks, from daily commutes to trudging through the wilderness, working hard on the job to weekend jaunts across the state. No matter what you want to do and where you wish to travel, the Colorado is a great option for any driver.
With plenty of room inside for all to get comfortable, plus all the stylish accents and tech features you're looking for when you stick to newer models, the Colorado proves that it has strength, as well as style, which is exactly what many drivers are looking for in a truck. Just because you're completing tough tasks doesn't mean you shouldn't be comfortable while doing so, and the Colorado is a top choice when you want to enjoy it all.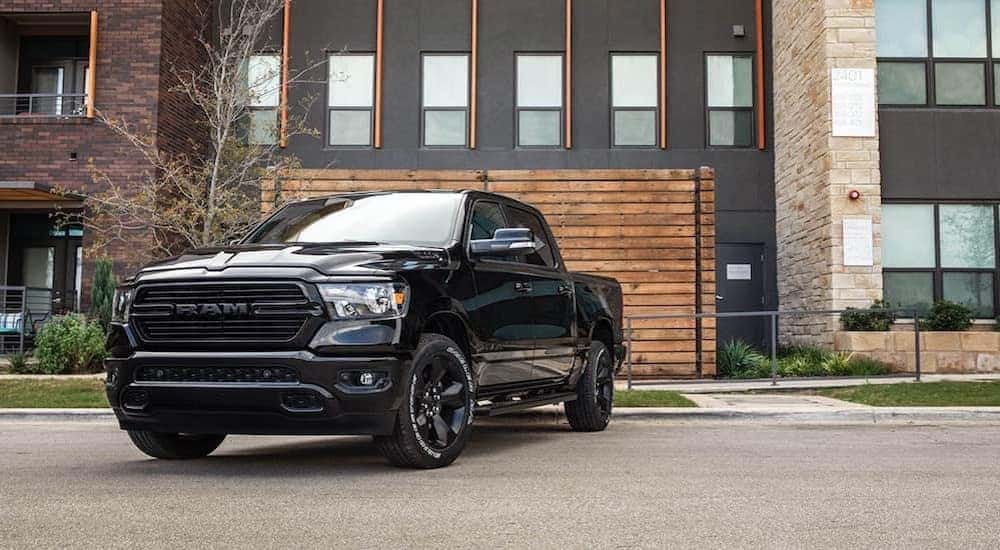 Ram 1500
If there's one thing you can expect from Ram, it's power… and boy does the Ram 1500 pack a punch when you're looking for a tough truck. Holding its value well throughout the years and equipped with your choice of high-performing engines, the Ram 1500 is a surefire way to get more done and travel to more places during any given day. Offering up a class-leading ride with a smoothness and responsiveness that can't be beat, as well as a nice selection of trims to get the Ram you need, the Ram 1500 can be seen near and far, completing a wide array of tasks. When you want style, function, and power, the Ram 1500 is the go-to truck for many.
Your Next Top Truck
At Blossom Chevrolet, we know that choosing the right pickup truck takes time and the right selection to choose from, which is why it helps to know your best options when starting your search. From the ultra-tough Silverado and Colorado to the legendary F-150, or fan favorites like the Tacoma and Ram 1500, there's a lineup of used trucks out there that quite simply can't be rivaled. Not every pickup truck is going to perform the way you desire, offer you the features you need, or hold onto its value quite like this bunch, so choose wisely. If you want to experience a stunning selection of used trucks, head to Blossom Chevrolet and let our team of experienced professionals help you in your search to find your next workhorse, commuter, off-roader, and more.