Blazer or Equinox? Which Chevy SUV Is Right For You?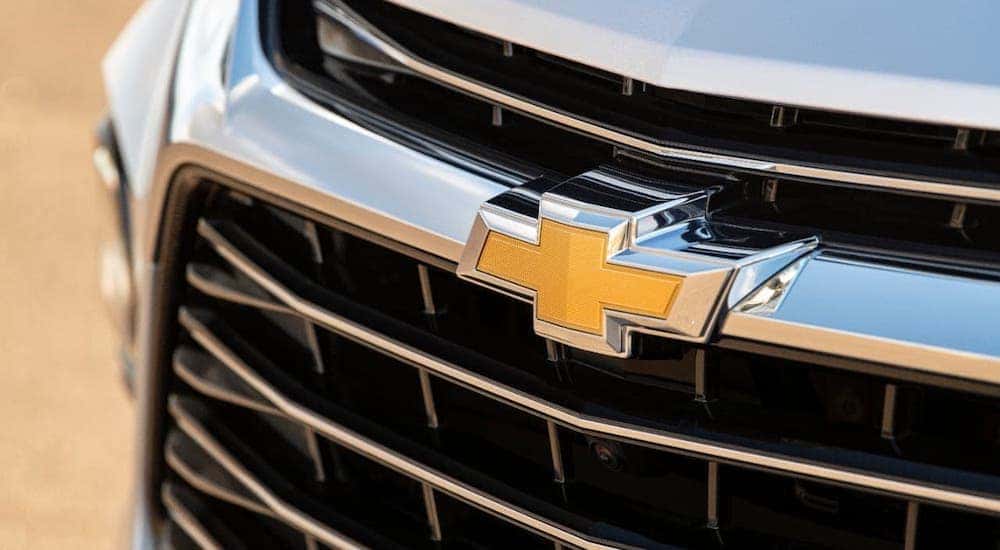 Chevy's lineup of SUVs offers a multitude of sizes and features where you are sure to find a vehicle with the utility your family needs. If you happen to be searching "Chevy dealer near me," we know how difficult it can be to get your search off the ground. That's why we thought we would talk about some advantages of, and differences between, two of Chevy's most popular and functional SUVs: the Chevy Blazer and the Chevy Equinox. We get a lot of questions about these two SUVs because people generally have a hard time deciding between these exceedingly useful segments of sports utility vehicles.
Is Bigger Better?
Knowing how much cargo and passenger space you need might be the most important thing to consider. So let's take a look at how these two SUVs compare in terms of size. The 2020 Chevy Blazer is the larger of the two, as it fits comfortably into the midsize segment, while the 2020 Equinox is Chevy's entry into the compact-crossover segment. The Blazer has a more spacious cabin because of this. The total space for the Blazer is 107.8 cubic feet, while the Equinox competes well here with 103.2 cubic feet. If you need the extra space, the Blazer is an excellent option with some additional cubic feet of usable space. Of course, that might not be enough to justify extending your budget for the more expensive Blazer, but it is enough to make a big difference if you have kids and need the extra room.
You might find yourself lamenting your choice if you go with the smaller SUV, but then you might also be happy you didn't spend more on space you didn't necessarily need. Cargo space in the Blazer totals 30.5 cubic feet of space behind the rear seats, so you'll have plenty of space to take the kids camping or for road trips. The Equinox gives you 29.9 cubic feet of cargo capacity behind the rear seats, which is surprisingly close to Blazer as the Equinox is one of the larger SUVs in its segment. You will find that the difference can be substantial, however, when you are loading up for a big trip and trying to pack all of your kids' gear. While the Equinox is bigger than most SUVs in its segment, it is still about 7 inches shorter in total length than the Blazer.
The 2020 Chevy Equinox does make the most of its roomy, 5-passenger interior. The rear seatbacks fold nearly flat in a 60/40 split, which is a big help when hauling gear. With 63.5 cubic feet of space with the rear seats down, you have the flexibility to adjust the space to fit your needs. Passengers in the Blazer will enjoy ample legroom, climate-control vents, and slide/recline seats. The 2020 Chevy Blazer can accommodate larger loads, too, with release levers located in the cargo area to create a flat load floor. So you can see why this is such a difficult decision, as they have similar dimensions and functionality, and the choice really depends on your needs and lifestyle.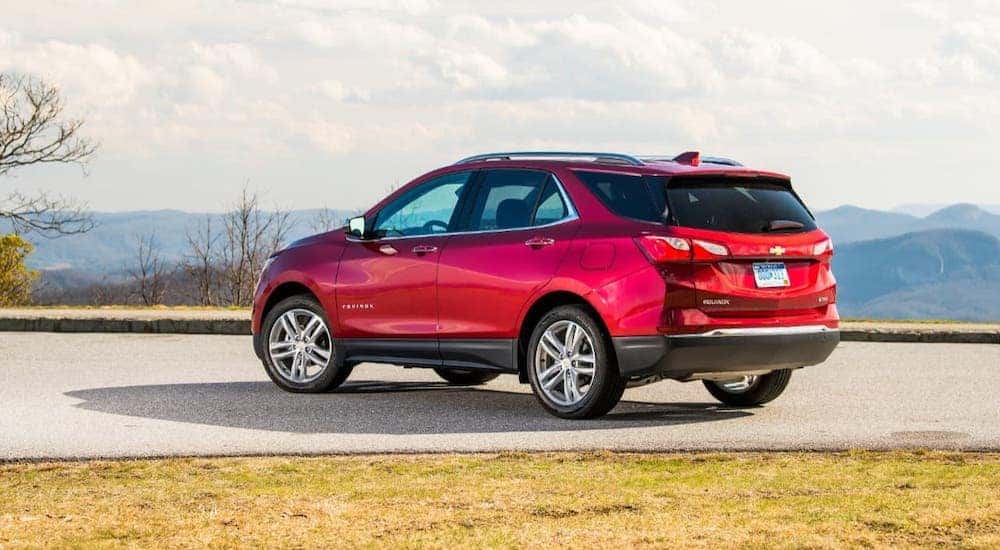 Pricing
Let's get price out of the way before we move on to how these two compare in terms of available features. The Blazer starts at $28,800, while the Equinox starts at $23,880. That's a big difference, but in terms of your monthly payment, it might not make as big of a difference as it sounds. You may not notice the increased payment as much as you would notice the loss of cargo space, but, again, it depends on how much space you need.
Standard Features
The Chevy Blazer comes with an impressive list of standard features. The base trim level is the L model, and with this trim, you can expect lots of technology and exciting options. To start, there's an 8-inch infotainment touchscreen. That's quite extravagant for a base-level trim. And what about the Equinox? It comes standard with a 7-inch touchscreen. Not bad, either. Both feature Apple CarPlay/Android Auto smartphone integration, and while the Blazer offers 18-inch wheels, the Equinox offers 17-inch wheels as standard.
Other highlights of standard equipment include 4G LTE Wi-Fi connectivity and the Driver Confidence Package for the Equinox and dual-zone automatic climate control and a leather-wrapped steering wheel for the Blazer. Moving up trim levels brings optional all-wheel drive to the Equinox and Blazer, as well as a choice of engines. Both the Blazer and Equinox offer great engine choices. Whether you are looking for fuel economy or power, Chevy has an engine for you. And if you are looking for the complete package, both SUVs offer turbocharged engines that are at once powerful and efficient.
Optional Features
Upper trim levels bring lots of options to add luxury and convenience to your SUV. Consider a Chevy Blazer with 21-inch wheels, a 360-degree camera system, and a panoramic sunroof. Not only do you have an iconic SUV with the bold, urban stylings of a Blazer, but you have the added convenience and luxury of Chevy's latest technology. It is hard to compete with such luxurious features, but if you are looking for something sportier, then the Blazer has a trim for you too. The RS trim features a 308-hp V6 engine along with sport suspension and 20-inch wheels.
The Chevy Equinox boasts many features as well. Perforated leather seating and 19-inch gloss-black alloy wheels are a good start. Optional ventilated front seats and heated rear seats, as well as a Bose premium audio system, can further outfit the Equinox. The choice of a 2.0-liter turbocharged inline-4 will provide 252 hp and 260 lb-ft of torque completing the package. With exceptional gas mileage (22/29 MPG) and awesome power, you have a rare combination of efficiency and strength.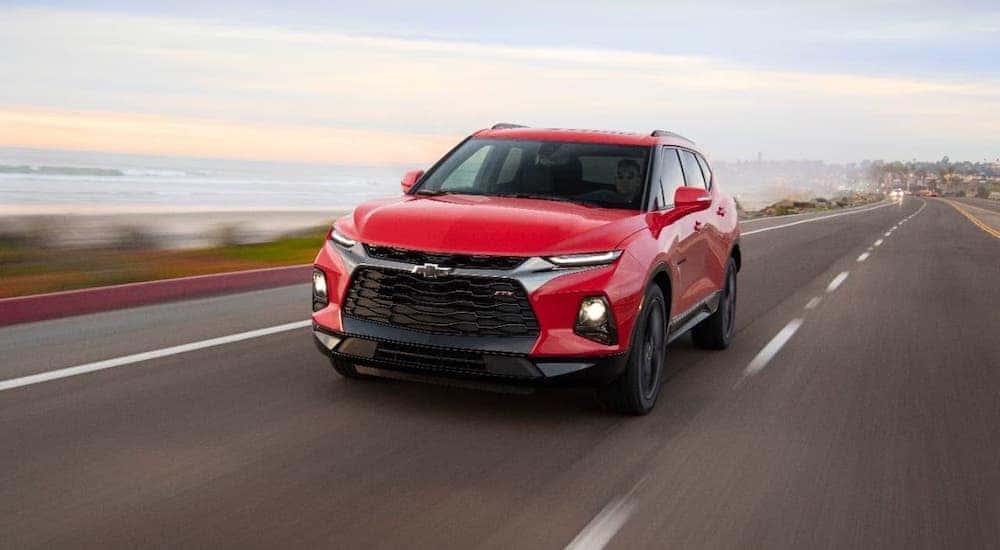 Safety Features
One of the best reasons to buy a Chevy SUV is that you know there will be plenty of safety features for your family. Both offerings from Chevy include advanced safety technologies to help you and your passengers stay safe. The Chevy Blazer, for instance, includes blind-spot monitoring with rear cross-traffic alert, lane-change alert, and rear parking sensors. Forward-collision mitigation with automatic emergency braking and adaptive cruise control are also available. There's also a Safety Alert Seat, which alerts the driver to possible hazards with a sensation to the driver's posterior.
With the Equinox, you will find more of an emphasis on family safety technology. Standard is automatic emergency braking, forward-collision alert, and lane-departure warning. Teen Driver is also standard on the Equinox, so you know before you even climb trim levels that your family will be sufficiently protected. Climbing trims brings the Confidence & Convenience II Package with a surround-view camera system, adaptive cruise control, and the Safety Alert Seat. This is in addition to rear cross-traffic alert, blind-spot warning, rear park assist, and remote start.
Stop By and Start Saving!
Clearly, both SUVs are excellent choices for you and your family, and both offer competitive features and cutting-edge technology. Stop by and check out our extensive inventory and learn about all of the features Chevy has to offer. Our expert staff is here to answer any questions you might have and steer you in the right direction so that you are sure to find the perfect vehicle for you and your family. Visit us at Blossom Chevrolet in Indianapolis and start loving and saving on a new vehicle today!