The 2021 Silverado is the Perfect Work Truck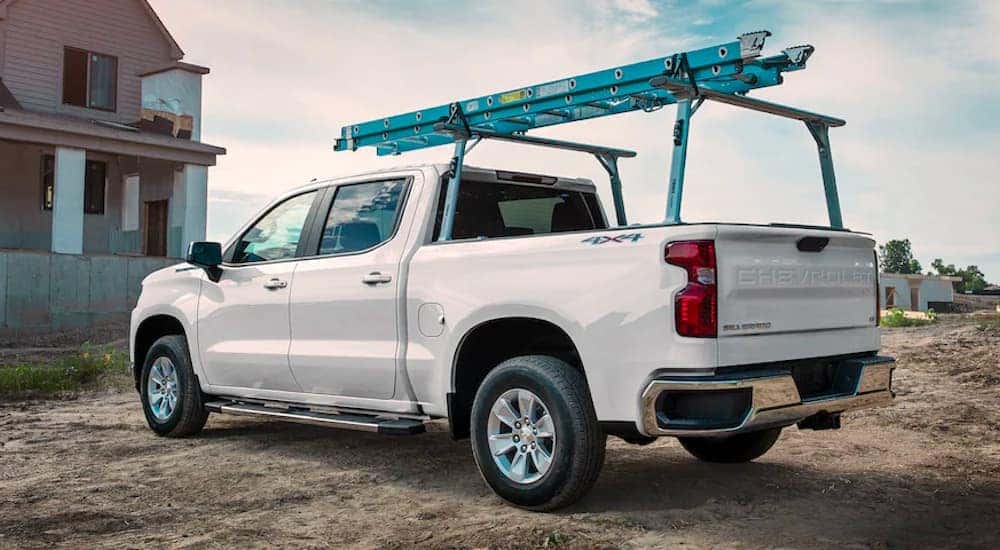 Forget about your screwdriver, hammer, nail gun, or table saw – your work truck is the most important tool you can invest in. So much of your success, and the success of your business, rely on the power, reliability, and functionality of a great work truck that it's easy to overlook just how vital it really is. Before you head to your commercial vehicle dealer in Indianapolis to buy your next work truck, however, it's important to decide on the perfect one to meet all of your needs. And while you have a lot of options available to you, we'd strongly suggest you take a good look at the Chevy Silverado.
Now, to be fair, yes, we're a Chevy dealership, so of course, we're going to like the Silverado – but you don't just have to rely on our suggestion. Once you check out the Silverado – not just the standard 1500 but the HD and commercial versions available too – you'll see that it really speaks for itself. The Silverado gives you exceptional towing and payload capacities throughout the lineup, great functionality that makes doing your job easier, and performance you can rely on. Plus, with the HD Series and chassis cab models, you have a tremendous amount of flexibility to put together a work truck that does exactly what you need it to do.
The Chevy Silverado 1500
If you're looking for a standard, full-size pickup to use as your work truck, then the 2021 Chevy Silverado 1500 is an amazing choice. This is your light-duty option, so if you don't need the kind of high-level towing or payload that the HD models are capable of, then you're in the right place. That makes the Silverado 1500 the perfect option if you want one truck that is great for work and play alike as a daily-use pickup.
One of the things we really love about the Silverado 1500 is just how much freedom you have to get exactly the right truck for what you need. There are five different engines to choose from on the Silverado 1500, with two versions of one of them, so really, you have your pick of six options. There's even a 3.0L Turbo-Diesel if you want a diesel engine rather than standard gas, and you can get up to 420 hp and 460 lb-ft of torque if you choose the most powerful engine available.
In addition to all of these engine options, you have eight different trim levels to choose from with the 2021 Chevy Silverado 1500. This is way more trim levels than you'll find with most other full-size pickups and lets you get exactly what you need from your work truck. Whether you want something that is strictly utilitarian and ready to get the job done, or you prefer more luxury and technology to make your truck a mobile office, you can get it with the Silverado 1500. With high-strength-steel construction and nearly 90 cu.ft. of total cargo bed space available, it's incredibly functional and useful.
When properly equipped, you can get up to 13,300 lbs of maximum conventional towing with the Silverado 1500, or up to 2,280 lbs of maximum payload. You can also use the Silverado for fifth-wheel or gooseneck towing, though you don't get much increase in performance with it. If that kind of towing is really important to you, then you're better off with one of the HD models. Still, the Chevy Silverado 1500 is one of the most impressive all-around work trucks that you'll find at your commercial vehicle dealer in Indianapolis.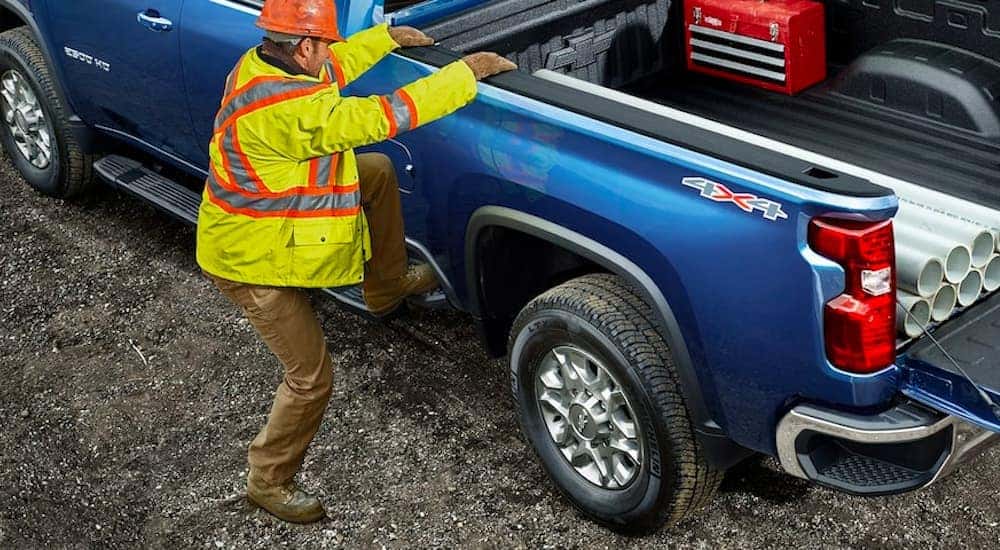 The Chevy Silverado 2500HD
If you need a work truck that can handle even more weight and really go further, then you should consider one of the Silverado HD models, starting with the 2500HD. The Silverado 2500HD is a great choice if you're looking for a truck pretty similar to the standard 1500 but with more muscle to handle heavier loads. Whether you want an increased payload or greater towing capacity, the 2500HD can come through and work incredibly hard.
You have fewer options with the HD models than the Silverado 1500, so keep that in mind, but this lets you focus on getting incredible power and performance. For example, the Silverado 2500HD has a maximum conventional towing capacity of up to 18,500 lbs when properly equipped and a maximum payload of up to 3,979 lbs with the standard gas engine. With the gas engine, you can get a slight increase with gooseneck towing, but 18,500 lbs is still the maximum even with gooseneck or fifth-wheel and the powerful diesel engine.
The Chevy Silverado 3500HD
For even greater performance, you should check out the Silverado 3500HD, which is one of the most powerful models available to customers at your commercial vehicle dealer in Indianapolis. Once you go beyond this point, you're looking at chassis cab models that you can upfit and really customize to be a work truck that precisely meets your needs (we'll look at those in a moment). One major feature of the 3500HD is that it's available with a dual-rear-wheel configuration, giving you far greater fifth-wheel towing and payload capacities.
When properly configured, the Silverado 3500HD can handle up to 7,442 lbs of maximum payload – though this requires the gas engine and a two-wheel drive setup. With a dual-rear-wheel configuration and the diesel engine, the 3500HD has a maximum conventional towing capacity of up to 20,000 lbs or a maximum gooseneck/fifth-wheel towing capacity of up to 36,000 lbs. As you can see, this is where the 3500HD really shines, so if gooseneck towing is a big concern for you and you need incredible trailering power, then check this one out.
The Chevy Silverado Chassis Cab
If you want impressive performance and the freedom to make your work truck perfectly adapted to your business needs, then consider the Silverado Chassis Cab. This model starts off with the 3500HD build, giving you a front chassis and an open rear platform that you can upfit and build upon as you see fit. Whether you need a large, flat platform to load up, prefer a high-walled dump bin, or need to set it up with custom storage and cargo options, the Chassis Cab is a fantastic choice to meet your needs.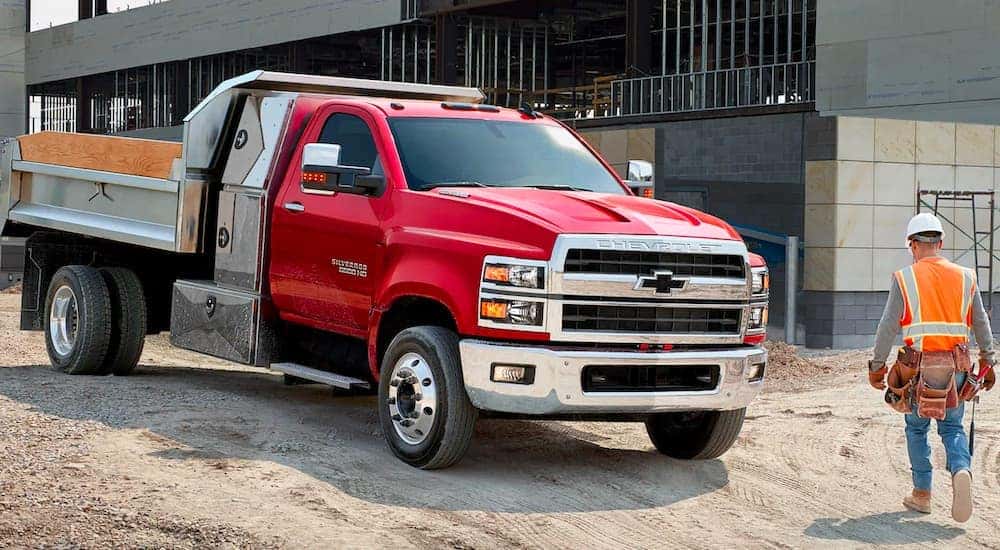 The Chevy Silverado 4500HD and More
Even more powerful chassis cab models are also available, including a 4500HD, 5500HD, and even a 6500HD Silverado model. These are incredibly strong and reliable work trucks with a front chassis and rear platform that you can upfit to best meet your needs. The Silverado 3500HD Chassis Cab has a Gross Vehicle Weight Rating (GVWR) of up to 14,000 lbs, but these models can go well beyond that. In terms of GVWR, the 4500HD can handle up to 16,500 lbs, while the 5500HD can support up to 19,500 lbs, and the Silverado 6500HD has a max rating of up to 23,500 lbs, which gives you great options to meet your needs.
Are You Ready to Get Your Next Work Truck?
As you can see, the 2021 Chevy Silverado, in all its various forms, is the perfect work truck for a wide range of uses and professional demands. From a standard pickup to enjoy all week long to a dedicated platform for use with a flat upfit or dump bin, there's a Silverado that will work perfectly for your business. Come visit us at Blossom Chevrolet in Indianapolis today to discuss all of your options, and we'll make sure you find the work truck to help you get your job done.