Treading Lightly With Winter Tires: What To Know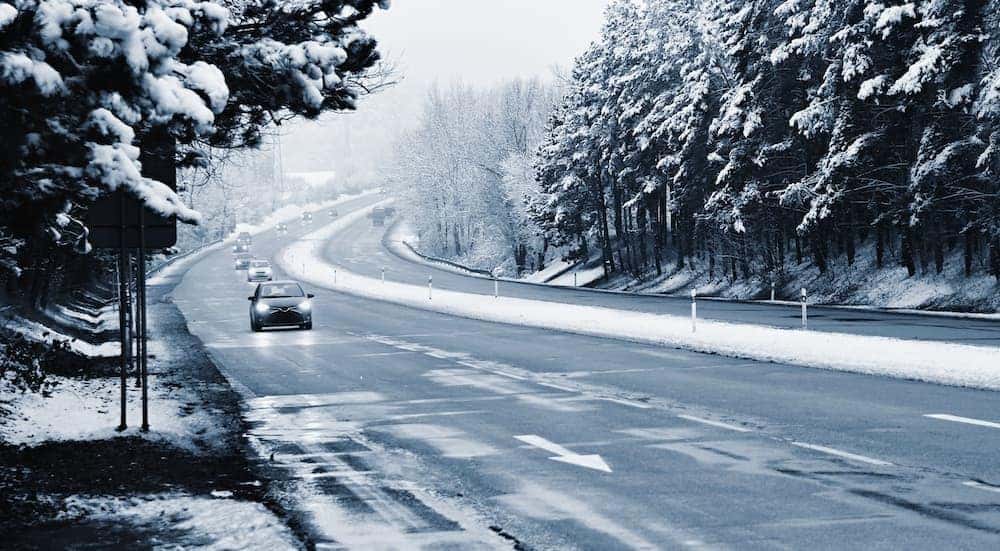 As the seasons roll by, some drivers are shopping around for winter tires in Indianapolis. But, should you get winter tires or all-season tires? Well, the answer depends on what your typical driving conditions will be. Winter tires and all-season tires are useful for different types of climates and different times of the year.
Firstly, winter tires are better for driving in harsh weather conditions such as snow, for example. Winter tires are specifically engineered to withstand continuous travel, and it all comes down to the design of the tires. One of the key differences between winter tires and all-season tires is the rubber they're made of. With a winter tire, the rubber is usually softer, and when combined with the deeper treads, they provide a much better grip on the road. Once the pavement gets hot during the summertime, the rubber will wear down much quicker, essentially burning the rubber away.
Traditionally speaking, other tires, such as summer or all-season, simply don't have the means to retain proper traction in winter climates, namely due to the design of the treads themselves. In recent years, manufacturers have begun to create all-season tires with the ability to withstand winter road conditions, albeit not with the same level of reliability as a winter tire. Typically, swapping between winter tires and all-season tires is entirely dependent on the climate of where you live, and with Indianapolis experiencing both the best and worst weather associated with each season, you'll want a pair of each.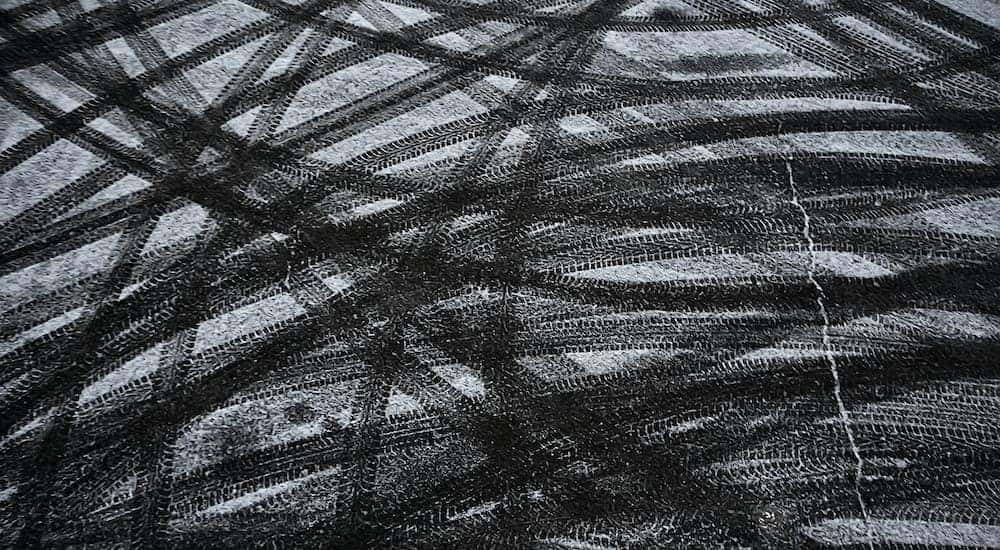 Tire Types
Winter tires, as mentioned, can withstand snow-covered roads and the sort because of the way the treads are designed on the tire. As the name suggests, all-season tires are built to withstand generic everyday weather, which includes both dry and rainy roads. All-season tires have seen leaps and bounds in development and will not be bad driving on slightly-covered snowy roads. In addition to this, all-season tires won't be subjected to temperature-related damage as something like a summer tire would. Winter tires will become damaged when exposed to high temperatures for too long because the softer rubber will melt and dry out in hot temperatures. Simply put, you can't go wrong with owning a set of all-season tires as the set can be used for the majority of the year, but winter tires are essential for those who live in areas with snowy winter months.
On the other hand, summer tires are excellent at what they do, which is to provide top-notch performance in predominantly dry areas. Summer tires are also an entirely feasible option in the rain; however, you should not drive through the snow with these tires. Summer tires should only be used in the late spring to late summer for drivers who live in areas that receive snowfall each winter. Like with winter tires, summer tires do not do well in colder weather and will deteriorate at a faster rate when the temperature drops.
Drivers in warmer climates who don't usually get snow in their area will likely opt for summer tires on a year-round basis as opposed to all-season tires. As summer tires are not suited for winter travel, you'll face the risk of slipping and sliding around the road as the tires won't be able to grip the ground well enough, and the lack of stability can result in a crash. The way the treads are designed on summer tires are meant for water to travel through the treads easily, but it won't take much snow for the treads to become unsafe.
When To Swap
When you should swap to your winter tires usually comes down to a combination of the current temperature and the time of year. Although there is no official pre-set time to swap out your all-season tires for a winter pair, it's recommended that you stow away the all-season tires once the temperature begins to average below 45 degrees Fahrenheit in your area. What month this occurs will vary, but you'll likely be performing this swap around mid-November to early December.
When the average temperature begins to rise above the aforementioned 45 degrees Fahrenheit, usually around mid-March to early April, you'll be able to swap back to your all-season tires without a problem. Winter months can have unpredictable weather forecasts, meaning it can be tricky to know when the weather is properly suitable for either winter or all-season tires. However, in addition to the temperature rising above 45 degrees Fahrenheit on average, it's important to familiarize yourself with your local 10-day forecast to gauge the possibility of foreseeable snowfall. The month in which you would swap from your winter tires is entirely subjective as winters have historically brought snowfall past the first day of Spring.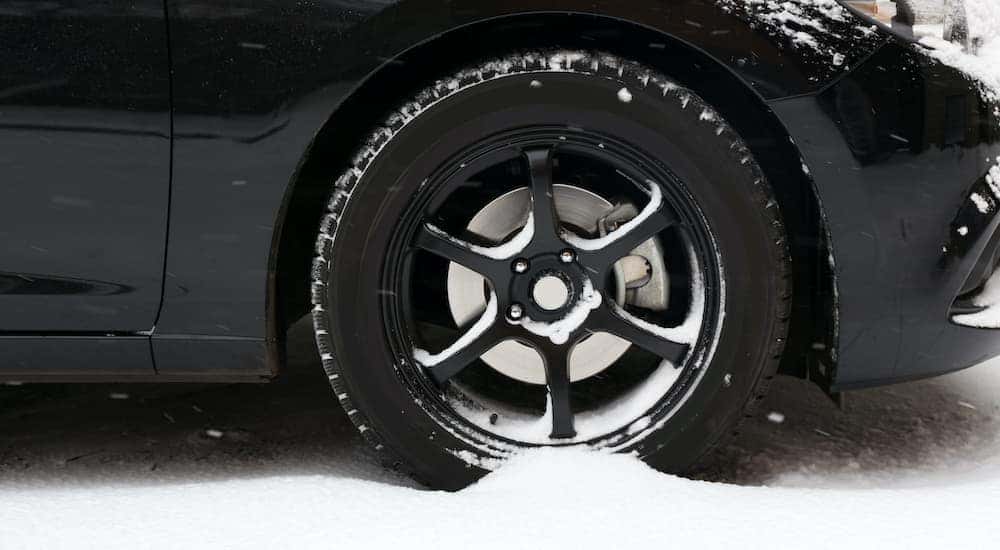 When Does the Set Need Replacement?
A common question associated with winter tires is their longevity. An entire set of tires is not exactly cheap, and you don't want to replace tires if you don't have to. A set of winter tires will likely last at least a few seasons but never hold onto the same set for more than four to five years.
However, not all winter tires will deteriorate at the same rate due to factors such as climate. The real indication for when it's the proper time to swap your winter tires is treadwear or severe degradation in the rubber. Realistically, you will tangibly feel the difference between a fresh set of winter tires and a damaged set when operating your vehicle. It's imperative that you replace your winter tires on time, as keeping them up to spec is not only recommended for your safety but the safety of others as well.
All-season tires are likely to have a longer-lasting lifespan: however, you shouldn't use your tires for more than a decade. Much like winter tires, it's recommended not to utilize the same set of tires after five years of use. However, if you keep on top of your tire care, you will be able to stretch the longevity of your tires.
Finding The Right Dealership
Whether you're looking to purchase a Chevy vehicle or get yours serviced, visit Blossom Chevrolet today. We're one of the highest-rated Chevy dealerships around, and we gladly serve the greater area of Indianapolis with fan-favorite Chevy vehicles with top-notch service. Our selection of Chevy vehicles includes brand new models along with a wide range of used ones, including CPO vehicles. Customers may order vehicle parts from us, and our on-site service department performs a wide range of services provided by one of our certified mechanics. At our service center, our mechanics can evaluate your tires for any damage and even perform services such as wheel alignment.
Should you require the installation of a new set of tires, we can do that too. All you need to do is book an appointment. Booking an appointment with our service center is as easy as visiting our website or calling our location. With the help of our service center and our friendly sales representatives who always greet you with a smile and top-notch service, Blossom Chevrolet is the best choice around. Additionally, our on-site finance center is always available for financial assistance for customers who apply, and we also offer trade estimates on your current vehicle. You can find us at 1850 North Shadeland Ave in Indianapolis, IN, by the Red Lobster restaurant and Sycamore Heights.