Which Silverado Trim Has the Right Tech for You?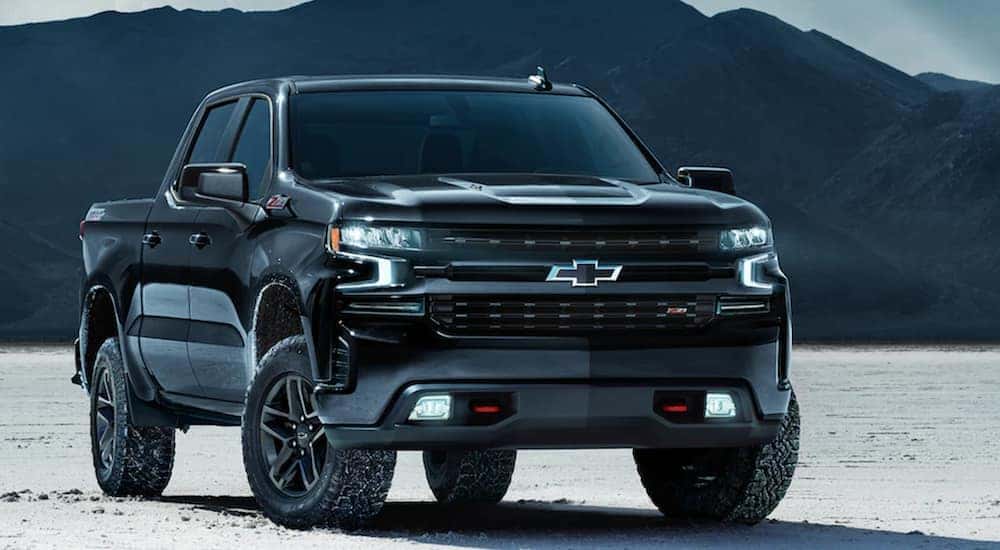 As you're shopping for a truck, you're going to find yourself making a lot of decisions. Even if you've decided on the Chevy Silverado 1500, then you still need to figure out which trim available here at Blossom Chevrolet, your Chevy truck dealer in Indianapolis, has the right combination of features. There's a lot to consider there, however, so we're not going to try to cover every last possible combination of options.
Instead, today we're going to look at the technology available with different trims, particularly the kind of towing and entertainment tech that you can find. These are two of the most important features on an impressive truck like the Silverado 1500 since they'll impact the kind of work it can do and how much fun it is to drive. The good news is that you can get some very impressive towing and trailering technology, alongside great entertainment features. You'll just have to decide on the perfect combination with everything you need.
Engines and Towing Capacity
Before we get into specific tech or trim levels, it's important to recognize that the maximum towing capacity available on any model will depend largely on the engine it has. There can be some variety based on trim, but the engine has a huge impact on towing, so don't overlook this. With five very different engines available, this can greatly influence the kind of towing you can do with your Chevy Silverado. The engines and their maximum towing capacities are:
4.3L V6 – 7,900 lbs maximum towing
2.7L Turbo – 9,600 lbs maximum towing
5.3L V8 – 11,500 lbs maximum towing
6.2L V8 – 13,300 lbs maximum towing
3.0L Turbo-Diesel – 9,500 lbs maximum towing
As you can see, there's a pretty big difference between some of these. You also cannot get every engine with every trim, so that's going to influence which trim level is really right for you. Don't worry, though: we'll mention which engines are offered on each trim level down below.
Available Trim Overview
There are a lot of different trim levels available for the Chevy Silverado, so figuring out which one has the right combination of features can be pretty intense. It helps to narrow it down to a couple of key things, however, which is why the engine and towing options really make it easier to see if a particular trim could work for you or if it's the wrong way to go. The trim you choose impacts which engines are available, and certain trims get more towing out of those engines than others, but it depends on a number of different factors.
To keep things simple, let's take a closer look at each trim level that's available below, along with the engines it has to offer, which will impact its maximum available towing. We'll also see what impressive trailering tech for the Silverado is available or standard on each trim level, which can make towing a lot easier. Then we'll look at the kind of entertainment technology available and standard on each trim, so you can get a good sense of what each one offers.
Chevy Silverado WT
This is the base trim for the Chevy Silverado, and it comes with the 4.3L V6 engine standard, though the 5.3L V8 and the 2.7L Turbo engine are both available for it. The Trailering Package is available for the WT, which includes a trailer hitch with a 2-inch receiver, along with Chevy's Hitch Guidance tech that makes connecting a trailer easier. This model comes with a 7-inch infotainment display, a 6-speaker sound system, and support for Apple CarPlay and Android Auto, but little else in terms of entertainment.
Chevy Silverado Custom
In a lot of ways, the Custom trim is very similar to the WT, though there are a few key differences. The Custom has the same standard and available engines as the WT, but it comes with the Trailering Package standard rather than as an available extra. It has some other features that aren't standard on the WT, like support for SiriusXM and OnStar, plus remote start, but otherwise, it's not massively different.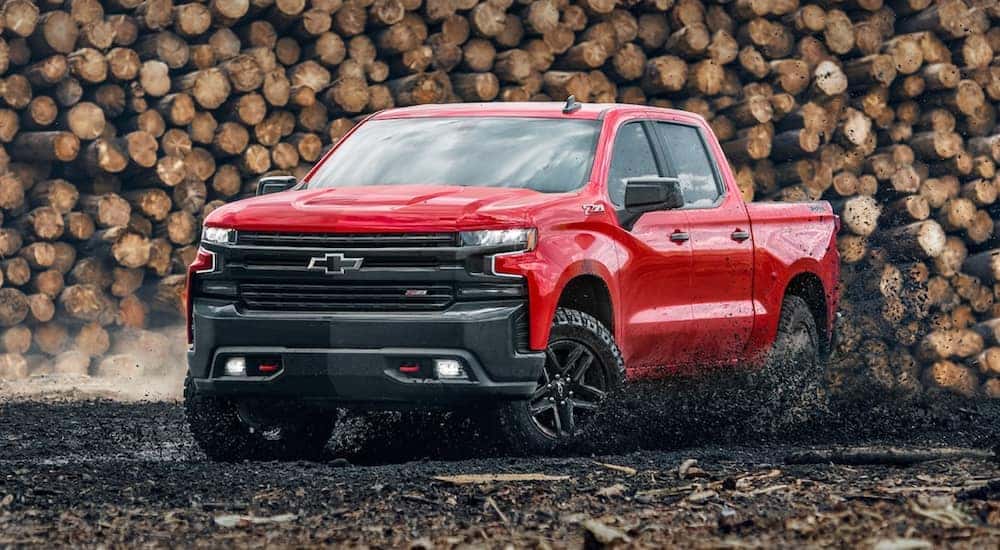 Chevy Silverado Custom Trail Boss
If you like what the Custom comes with in terms of towing capacity and features, but you want a truck that's built for going off-road, then check out the Custom Trail Boss. This comes with the Trailering Package and the same interior features as the Custom, but it also has a 2-inch factory suspension lift with Chevy's Z71 Off-Road Package. This includes an off-road suspension, improved approach and departure angles, and 18-inch Goodyear Wrangler Duratrac tires.
Chevy Silverado LT
For improved performance and features, the LT trim is a great option. It comes with the 2.7L Turbo engine standard and has the 5.3L V8 engine or Turbo Diesel available for boosted performance. The LT comes with the Trailering Package, plus it has an 8-inch infotainment display with steering-wheel-mounted controls and a 4-inch driver information center. The Max Trailering Package is available for increased towing, as is a Bose 7-speaker sound system.
Chevy Silverado LT Trail Boss
Much like with the Custom and the Custom Trail Boss, the LT Trail Boss is an off-road-focused version of the LT trim. It comes with the 5.3L V8 engine standard and has the 6.2L V8 available, and features the Z71 Off-Road Package with a 2-inch factory lift and off-road suspension. So if you're interested in taking the LT trim off-road, then this is the one for you.
Chevy Silverado RST
The RST trim has a few upgrades over the LT, but not a ton in terms of towing or entertainment. It comes with the 2.7L Turbo engine standard and has the 5.3L V8, 6.2L V8, and the Turbo Diesel available for boosted performance. The RST trim comes with the Trailering Package and similar entertainment features as the LT, with the Max Trailering Package and Bose sound system both available.
Chevy Silverado LTZ
With the LTZ trim, you get the 5.3L V8 engine standard, with both the 6.2L V8 and Turbo Diesel engines available. Much like the RST and LT, the LTZ trim comes with the Trailering Package but also comes with a number of additional safety features and some great comfort upgrades inside. The Bose Premium sound system and Max Trailering Package are available upgrades for this trim.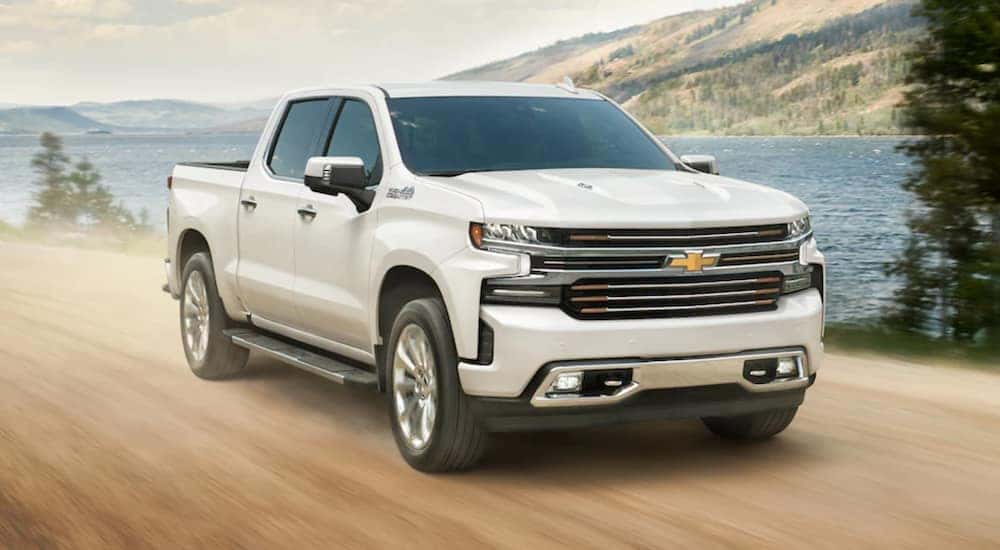 Chevy Silverado High Country
As the pinnacle trim for the Silverado, the High Country comes with the 5.3L V8 engine and has both the 6.2L V8 and the Turbo Diesel available. You get Navigation, HD Radio, and the Bose 7-speaker Premium sound system standard on the High Country, along with wireless phone projection for Android Auto and Apple CarPlay, plus it has a long list of comfort and luxury features. The Max Trailering Package remains an available option to get the most towing capacity out of the Chevy Silverado.
How to Get Everything You Need
As you can see, there's a fair amount of overlap among many of these trims, so getting everything you need can come down to making decisions based on minor differences. The trick is to figure out the amount of towing capacity you need and then work backward from there to see what trim and engine combination can handle it. You can then look at the standard and available options to get all of the other features you want. Of course, having a knowledgeable salesperson by your side can make figuring things out a lot easier, so come visit us at Blossom Chevrolet to find out more and drive away in the perfect pickup.