2022 Electric Vehicles Arrive for the Summer of 2021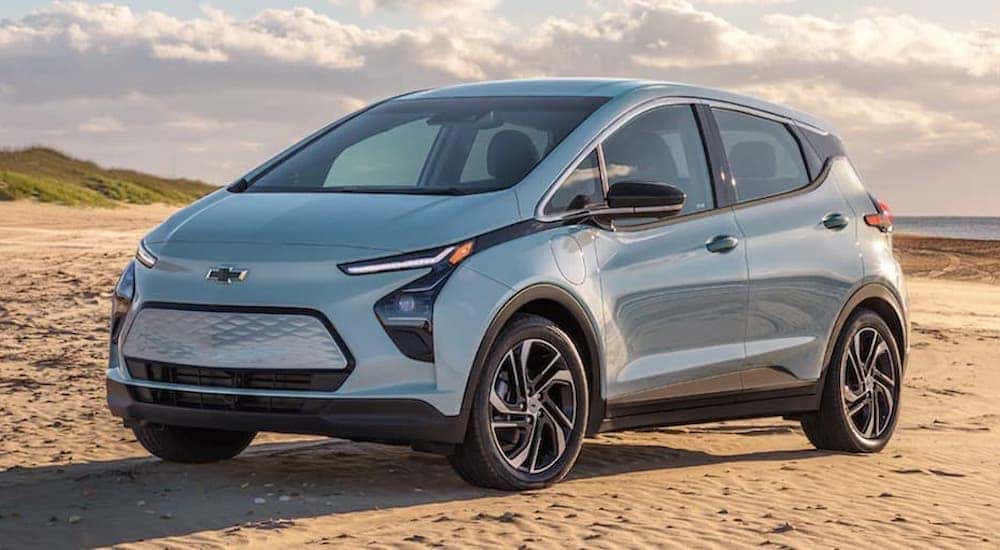 If you weren't already excited to see summer this year, Chevy is giving buyers interested in electric vehicles another reason: the all-new 2022 Chevy Bolt EUV will be at dealerships. For those not in the know, "EUV" is a fancy way of saying electric SUV, and Chevy is giving Americans who are SUV fans a vehicle that will hit the spot. Of course, the popular Bolt EV will also be getting a redesign for 2022. It will go on sale this summer alongside the Bolt EUV. Those of you considering the purchase of a Chevy EV can read on to learn about the 2022 Bolt EV and 2022 Bolt EUV details.
Going Electric with Chevy
Both the Bolt siblings will be powered by the same electric motor that produces 200 horsepower with 266 lb-ft of torque and is powered by a 65 kWh lithium-ion battery, so driving these EVs will share similarities in how they operate. If you purchase or lease either vehicle, Chevy promises to cover the cost of installing a level two charging station at your home for qualified buyers. This saves buyers the worry of having to find funding for the installation of a charger, which affords those with the place to plug in a very easy means of keeping your Bolt battery at full capacity.
Chevy states in their vehicle information that up to 4,400 charging stations across the US are available for fast charging so Bolt owners can travel anywhere. Even if you can't find a fast-charging station, buyers will be able to charge anywhere using a standard household three-prong outlet for the ultimate convenience. Charging your Bolt is easier than having to head to the gas station; in fact, it's so convenient you'll likely never need to visit a public charging station. With a home charging station, your vehicle will charge in your driveway or garage overnight and be ready to go in the morning.
Another common aspect of driving a vehicle in the Bolt family includes a feature called one-pedal driving, which can be used to recapture energy to charge the battery while you drive. In combination with a convenient paddle located on the steering wheel, this can increase your driving range because your vehicle operates more efficiently on the road. To make electric driving even simpler, a feature called energy assist finds the most efficient route you can take so you can make the most of your battery charge.
2022 Bolt EV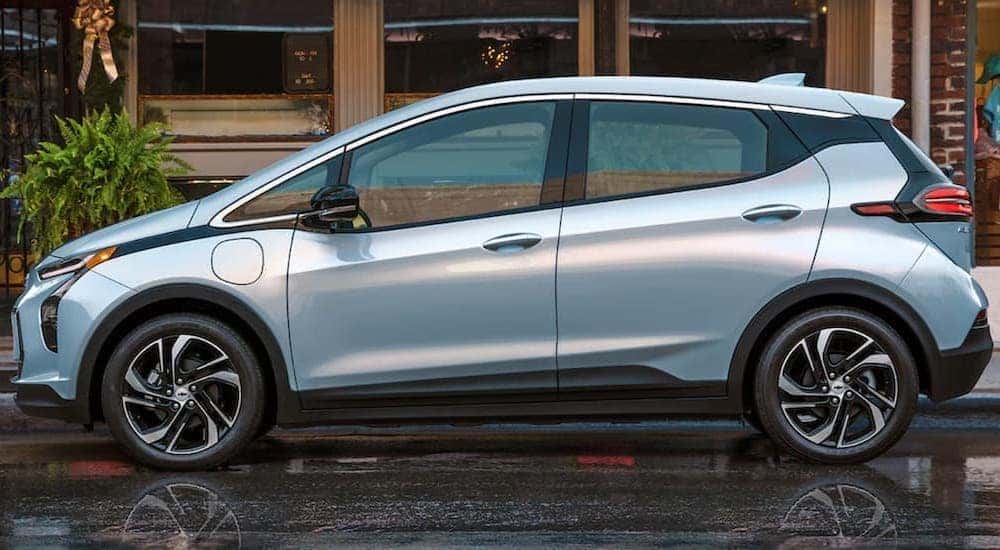 For 2022, the Bolt EV receives a refreshing new design inside and out, giving the model a new look that's more future-forward. The front end is where the most changes stand out, with a new dark line that leads along the edge of the hood and meets the floating pillars in the back. LED turn signals are incorporated into this snappy line that resembles a lightning bolt. On the inside, new seats with higher quality material are more comfortable, and seating for five is still standard.
Drivers enjoy a fully digital command center in the sleek dash with gauges that can be programmed, and a large 10.2-inch infotainment screen sits atop the center stack for easy access to apps and settings. Buttons for the climate control make changing the temperature in the cabin a simple affair, and buttons replace a shift knob to make more space up front. Chevy estimates the driving range of the Bolt EV at 259 miles, giving you plenty of range for commuting and road trips alike.
Storage beneath the center console allows for extra space to tuck small bags or items out of sight, and the rear cargo area is larger than a midsize sedan with the seats up. 2022 brings a larger suite of standard safety equipment, with six driver-assisted features like Automatic Emergency Braking, Front Pedestrian Braking, and a Forward Collision Alert. More tech features are also included in the new Bolt EV, with available wireless charging, wireless Apple CarPlay and Android Auto, and HD surround vision for a 360-degree view of the vehicle on the infotainment screen.
This year Chevy is making a dual-level charging cord available to make it easier to recharge anywhere, and in-vehicle apps like Alexa and the Marketplace can make it feel like you're driving with your own personal concierge. If you already have an Alexa at home, you can link it to your Bolt EV to help keep you organized with reminders or entertained with playlists. The Marketplace can find your favorite food, places to charge your battery on the road, and more, even allowing you to order and pay ahead through the app for the ultimate convenience while road tripping.
Two trims are available for the Bolt EV: 1LT and 2LT. Pricing for the Bolt EV dropped by more than $5,000 for 2022 models, making driving electric more accessible for more buyers. Starting price of the 2022 Bolt EV begins at just $31,995.
2022 Bolt EUV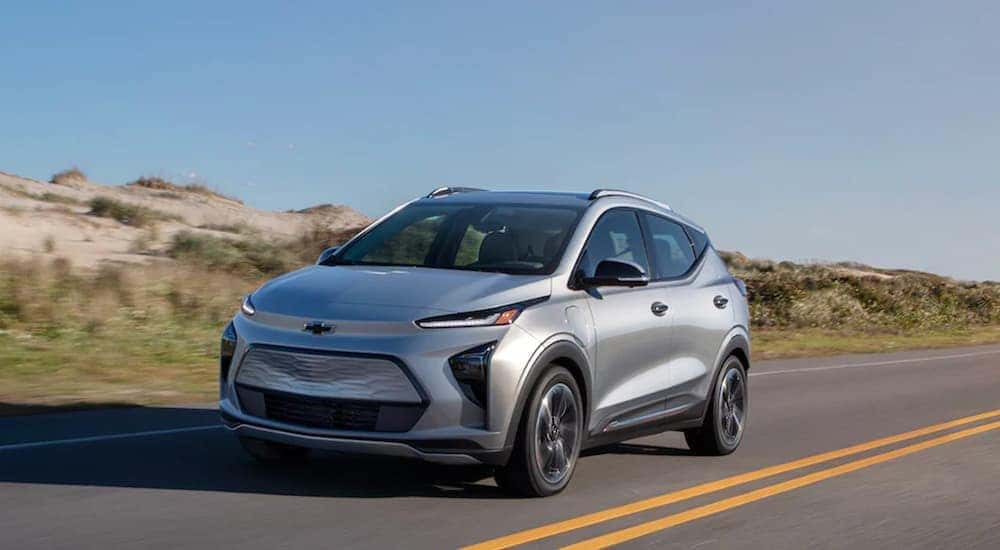 America can't get enough of SUVs, and now Chevy is taking the SUV into electric vehicles with the Bolt EUV. While there are some exterior design cues in common with the smaller Bolt EV, the Bolt EUV shares more common styling with gas-powered SUVs in terms of its exterior appearance. The floating pillars and covered grille stir up a sibling similarity with the smaller hatchback, but the Bolt EUV has a taller, more aggressive SUV profile. On the inside, a few shared characteristics such as the shift buttons, large infotainment screen, and shape of the sculpted dash recall the 2022 Bolt EV, but a sporty flair uplifts the interior with details in the steering wheel and command center.
More interior space is available to the rear seat passengers in the Bolt EUV, with an extra three inches of legroom to accommodate tall passengers comfortably. This is possible because the exterior length is more than six inches longer than the smaller hatchback. The Bolt EUV also has a more upscale appearance, and features are more generous. Standard items like the dual-level charging cord, wireless Apple CarPlay and Android Auto, and wireless smartphone charging are found on all three available trims. Like the Bolt EV, the Bolt EUV will have the same driver-assisted safety features as standard, with the option to upgrade to add more.
One of the trims is a limited availability Launch Edition, which includes features like an illuminated charging port, panoramic sunroof, and the all-new Super Cruise, which allows hands-free driving on designated highways. Chevy makes this feature available as an option on the Premier trim as well, giving buyers the option of letting the on-board system take over while the driver continues to watch the road. If Super Cruise isn't your style, you may still enjoy the available Adaptive Cruise Control to make driving in traffic less taxing.
With the same battery and a slightly larger frame, the Bolt EUV driving range is estimated at 250 miles, though the same characteristics of driving the smaller Bolt EV will apply to help recapture energy for battery charging while you drive. Technology like Alexa and the Marketplace will also be present to serve as a convenient assistant on the road, and there is plenty of cargo space in the rear with the seats either upright or folded down. Despite all the extra features, the 2022 Bolt EUV will only be slightly more expensive than the hatchback at a starting price of $33,995. This is certain to be a buyer favorite with all the options available, especially in the limited Launch Edition.
Bolt Into the Future
Buyers who are curious about how it feels to drive an electric vehicle are encouraged to test either Bolt model here at Blossom Chevrolet. After discovering the pleasure of owning a whisper-quiet vehicle that never needs to visit a gas pump, we expect that you will never want to go back to traditional gasoline vehicles. Join Chevy in their promise to achieve an all-electric future by going with a Bolt EV or Bolt EUV when you purchase a new car this summer!