Choosing the Right Chevy Commercial Vehicle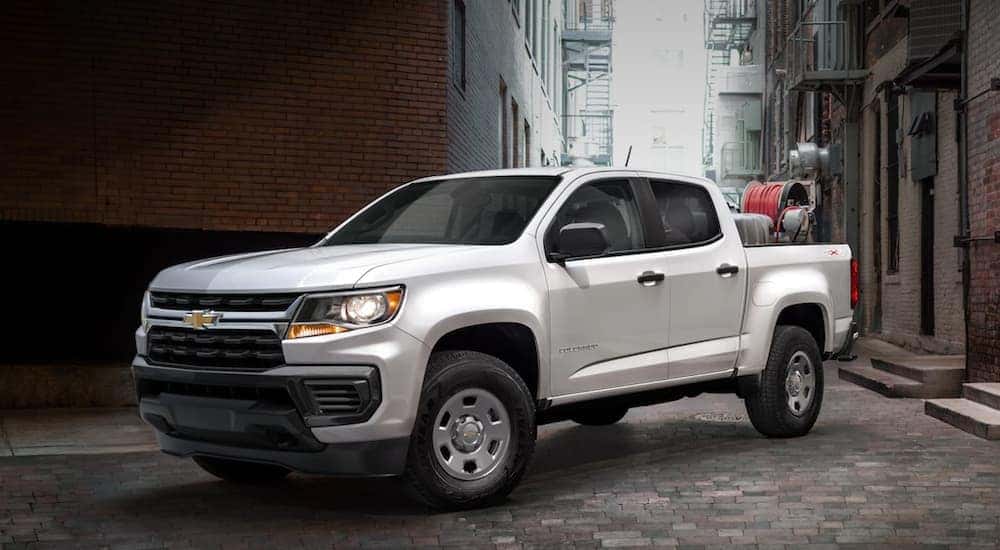 Here at Blossom Chevrolet, we enjoy working with all kinds of customers every day, and while it's always fun to help someone find their next family vehicle, there's something particularly rewarding about working with our commercial customers. We understand the needs of a business and how important Chevy commercial vehicles can be to our customers since the right vehicle can mean the difference between success and struggle. So when we have the opportunity to help another company grow, thrive, and succeed, it's definitely one of our favorite things.
Choosing the right Chevy commercial vehicle, however, is not always as simple and straightforward as you might think. It's important to consider the needs of your company, both right now and long-term, and make sure you choose a model that will meet all of them. Again, that might sound simple, but it's also very easy to overlook something that results in you getting a vehicle that works fine, but not exceptionally. So, today, we're going to go over a few things that you should consider and keep in mind when looking at different Chevy commercial vehicles.
Vehicle Design – Truck vs Van
One of the first things you should consider when choosing between the available Chevy commercial vehicles is whether a truck or a van would be better for you. Depending on the nature of your business, this could be a pretty simple answer, or it might be more complicated. If you need to handle deliveries or want to transport a large number of passengers, for example, then a van is clearly the right choice.
On the other hand, if you're in a trade, such as an electrician or carpenter, then the answer might not be quite so simple. A lot of people in trades flock to trucks, that's true, but vans can also be a great choice – it really depends on your storage needs. If you need the large, open space of a truck bed and great towing capacity, then a truck is usually the right choice. But if you're looking for a vehicle that offers functional storage, something you can install shelves, drawers, and other equipment into, then a van is a great way to go.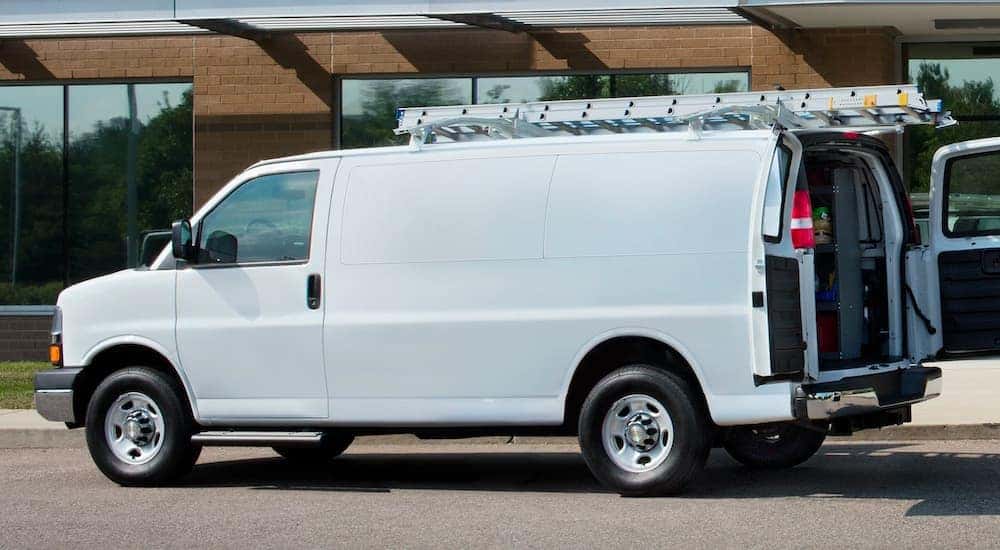 Vehicle Design – Configuration
Even once you choose the type of Chevy commercial vehicle that's right for you, there are still some other factors to consider. The configuration is important – particularly when it comes to the size and style of something like a truck. We'll talk about size in a moment, but for now, let's consider standard models vs cutaways and chassis cabs.
A standard truck or van is a great choice if what you need is a typical box or rear cargo area – you can still make some changes, installing compartments and shelves, but the standard design will work well for you. If you want an open platform to fully customize; however, then a cutaway model or a chassis cab can be a better choice. These models give you a great cab, and then you can build onto them with whatever kind of solution for your business you need.
Vehicle Design – Size Does Matter
A moment ago, we mentioned vehicle size, so let's explore that a little further. You have a lot of different sizes of vehicles available to you when looking at Chevy commercial vehicles, and it's important to choose one that best meets your needs. The goal here is typically to find that "just right" option: one that's neither too large nor too small for what your business needs. That means figuring out the size of the cargo you typically need to transport, or your passenger needs, and making sure you choose a model that will work – just remember both physical dimensions and weight when looking at your options.
Engine Options
As the beating heart of any vehicle, the engine is always important, and that's certainly the case when considering the Chevy commercial vehicles available to you. You will typically have a couple of different engines to choose from with commercial trucks and vans; just like with size, it all comes down to that "just right" option. Your towing and payload needs are really going to come into play with this, so it's important you have a sense of everything you need from your vehicle before you start shopping.
You want to choose a model with an engine that delivers great horsepower and torque – in some cases, torque can be more important. Look at towing and payload capacities and make sure you get a vehicle that can handle whatever you'll need to throw at it – and try to plan for the unknown whenever possible. In general, err on the side of more power than you need. You're better off having an extra 500 pounds of towing capacity that you rarely use, rather than needing to make multiple trips because you chose an engine that's too weak.
Interior Considerations
This might not strike you as the most important consideration when looking at Chevy commercial vehicles, but it really does matter. You might not need every luxury option out there, but you still want to make sure your vehicle is efficient and helps you get your job done. Large infotainment displays might seem excessive until you find yourself lost and need to use on-screen directions to get to a job site, then a good screen can really come in handy.
If you're looking at a commercial passenger van, then consider the comfort and satisfaction of your passengers. At the very least, choose a model with adequate heating and air conditioning, with options like Wi-Fi connectivity to push you ahead of your competition. For a commercial truck, make sure there's adequate space inside for setting up a laptop or using a clipboard – you want your vehicle to support your business and make your work easier. And with a commercial cargo van, be sure to consider all of your storage needs: whether that's compartments for tools and supplies or tie-downs and shelves for deliveries.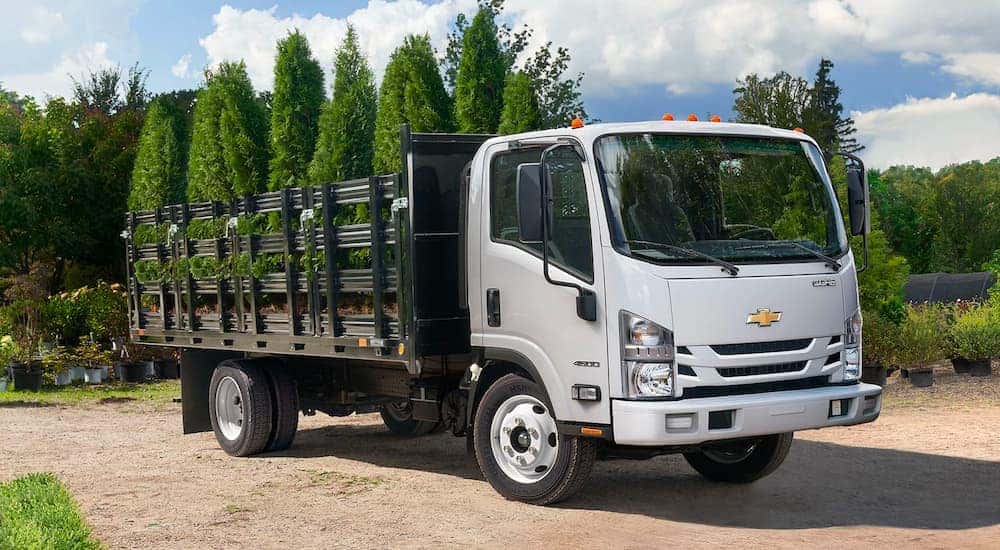 Safety Features
It's easy to focus so much on the performance and functionality of different Chevy commercial vehicles that you ignore other things that really matter, like safety. Safety should always be on your mind when looking at different vehicles, especially for a commercial truck or van that you're going to use for your business.
For one thing, a vehicle with great safety features can help your driver avoid collisions, which helps you avoid downtime, expensive repairs or replacement costs, and insurance rate increases. With that same thought in mind, a safe vehicle can also help protect your employees and prevent serious injuries. If your employee is injured while driving a work vehicle, then their claim will be on your insurance and your worker's compensation – and all of this can make an expensive accident even costlier.
One Vehicle or a Fleet?
Finally, as you look at different Chevy commercial vehicles, consider whether you simply need one vehicle to help you get your job done or if you might want to grow into a larger fleet. If a fleet seems like it could be on the horizon, then consider vehicles that will last a long time and have options you can choose to make them match and feel like part of a larger whole. These vehicles represent your business on the road, so you want to keep them looking good and lasting a long time. Call or come visit us at Blossom Chevrolet to find out more about the current lineup of Chevy commercial vehicles. Let us help your business blossom and thrive.