Measuring the Chevy SUV Lineup
One of the easiest ways to figure out which of our Chevy SUVs is right for you is to look at them by size and determine which one meets your needs. Whether you are interested in Chevy's biggest SUV, the Suburban, or Chevy's smallest SUV, the Trax, using their size to guide you can make it much easier to get a feel for the entire lineup. While size might not be everything, you can pretty easily tell if a model is too small for your family or if it offers much more room than you possibly need.
We have a lot of customers come to us at all different stages of the SUV-buying process. Some people arrive with a very solid idea of what they want in mind, down to the specific model, trim level, and even color. Other customers can feel lost when they reach us, overwhelmed by their options, and uncertain of what they need. One way we can help these customers is by going over the Chevy SUV lineup with them based on the size of the different Chevy vehicles. This may not show you everything that each model has to offer – though we are happy to provide that information as well – but it will point you in the right direction of where to start.
Chevy SUV Size Categories
Just to make sure we are clear on what different terms mean, let us quickly take a look at the various size categories used when talking about Chevy SUVs and what they each mean. For the most part, these terms are generally standard within the industry, but sometimes a certain term will be used by one manufacturer slightly differently than by another. Still, you can usually compare two "midsize" models and find they are generally similar in overall size.
From largest to smallest, the size categories used by Chevy, along with the models in each one, are:
Full-Size: Suburban, Tahoe
Midsize: Traverse, Blazer
Small: Equinox, Trailblazer
Compact: Trax
Now let us take a look at each of these vehicles, again from largest to smallest, to see exactly how they all stack up.
2021 Chevy Suburban
The Suburban has long been the largest model offered in the lineup of Chevy SUVs, but the 2021 model is particularly noteworthy. This is the start of a new generation for the Suburban, and it is bigger than ever before, offering more room inside for your passengers and cargo. If you need a really large three-row SUV, then the 2021 Suburban is a fantastic choice. To get a sense of just how big this model is, the Suburban measures just over 225 inches in length and more than 75 inches in height. You get more than 144 cu ft of total cargo space inside, so no matter what you need to take with you, this beauty can handle it.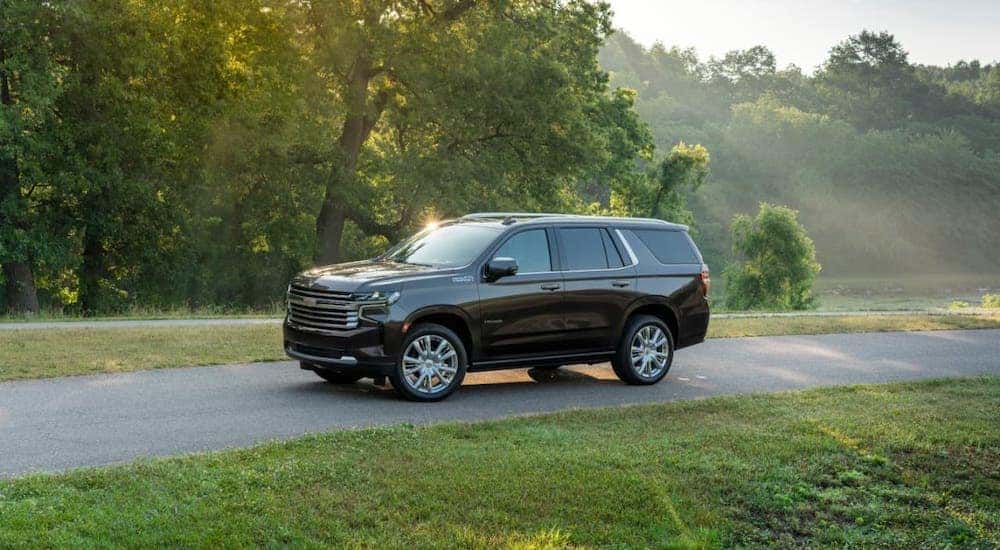 2021 Chevy Tahoe
Our second largest option when looking at Chevy SUVs is the Tahoe. Much like the Suburban, it has been updated with a larger body than ever before. In fact, both the Tahoe and the Suburban have a lot of the same great features in their all-new generations, so if you like what you see in the Suburban, but it is a little bigger than you need, then the Tahoe is a fantastic choice. The 2021 Tahoe measures just over 210 inches in length, more than a foot shorter in length than the Suburban, but shares the same height. It offers up to nearly 123 cu ft of interior cargo space, however, so you still get a lot of room inside.
2020 Chevy Traverse
There are two midsize options when looking at Chevy SUVs, and the Traverse is the larger of the two. Even though it is a midsize model, it still has three rows of seats, just like the Tahoe and Suburban. So the Traverse is a very good pick if you do not need a large or full-size SUV but still have a lot of passengers to take with you. That being said, the 2020 Traverse still measures about 204 inches in length and just over 70 inches in height. You get up to about 98 cu ft of total cargo space inside the Traverse, which is great for a midsize model but certainly less than the larger options.
2020 Chevy Blazer
The other midsize model from Chevy is substantially smaller than the previous models. Although we love the Blazer, it is worth noting that it can seem strange that it is in the same size category as the Traverse, since it has two rows of seats and is significantly smaller. The 2020 Blazer measures about 191 inches long and 67 inches tall, which is more than a foot less in length than the Traverse. You get about 64 cu ft. of total cargo space inside the Blazer, so it's a good pick for modest needs, but really can't compete with the Traverse if you need something larger.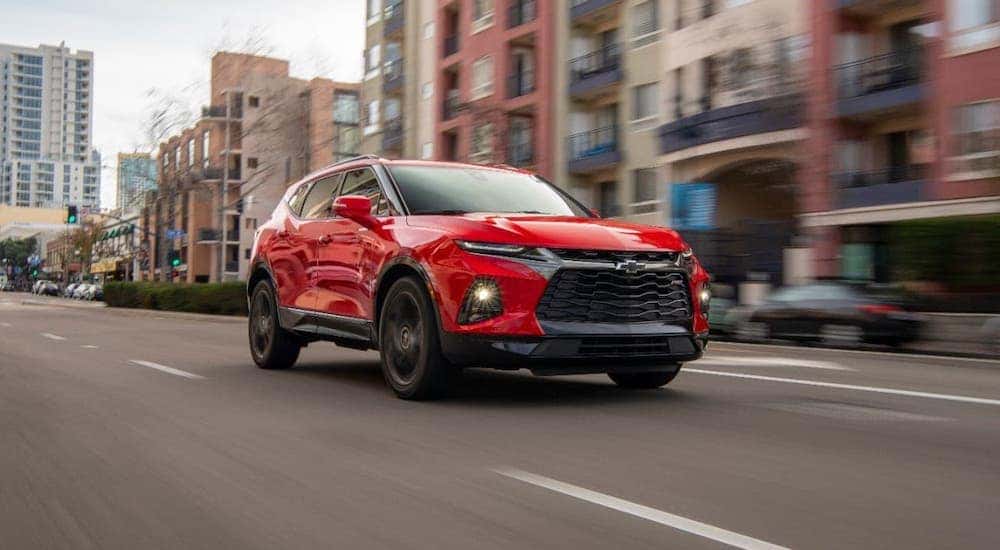 2020 Chevy Equinox
Next up, we have the larger of the two small Chevy SUVs – the 2020 Equinox. If you like the Blazer's interior cargo capacity, but it's a bit too big for your lifestyle, then the Equinox is a fantastic option. The 2020 Equinox measures about 183 inches in length and around 65 inches in height, which is almost a foot less in length than the Blazer. But the Equinox still gives you nearly 64 cu ft of interior cargo space, very close to what you get with the midsize Blazer.
2021 Chevy Trailblazer
The other small Chevy SUV is a brand-new model that a lot of people expected to replace one of the other options on this list, but it was instead added to the lineup. There are a lot of great features to be excited for with the Trailblazer, and its size is perfect for small families. It measures about 173 inches in length and about 65 inches in height, which is a good 10 inches shorter in length than the Equinox. You still get 54 cu ft of cargo space inside the Trailblazer, so it is still very functional even though it is smaller.
2020 Chevy Trax
Finally, we have the most compact option among these Chevy SUVs, with the 2020 Trax. If you want the smallest Chevy SUV available, then this is the one for you, with two rows of seats and great options to choose from. The Trax measures just about 167 inches in length and about 66 inches in height, bringing it in at a good 6 inches shorter in length than the all-new Trailblazer. Despite its compact size, you still get about 48 cu ft of interior cargo space within the Trax, which means it is still quite functional and useful.
Find Your Chevy SUV at Blossom Chevy
Whether you want the largest Chevy SUV or the smallest, we have you covered at Blossom Chevy. One of our friendly and knowledgeable salespeople can work closely with you to help you figure out everything you need and make sure you find the perfect vehicle for your lifestyle. Call us or visit our Indianapolis dealership today, and we can help you pick the right SUV.