Top 5 Questions to Ask Your Autobody Repair Shop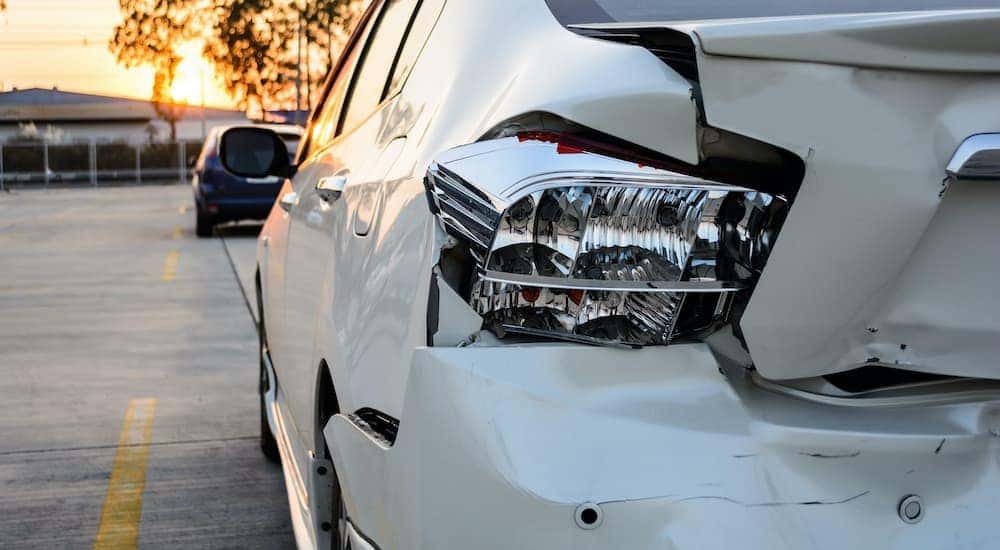 When you're in need of an autobody repair shop, we know it's not in the best of circumstances. Either a car accident or other incident has caused significant damage to your vehicle. Once everyone is deemed safe, it's time to start thinking about repairs. Your first step is finding a place that does autobody repair near you.
Since this might be your first or one of the few times, seeking autobody repair, it's important to be educated before stepping foot into the shop. Staying local will not only be convenient for you; it makes the whole process go quicker. Next, we've compiled five key questions you need to ask your autobody repair shop before agreeing to complete your repair. These answers will save you time and money!
#1.How Well Do You Know My Vehicle's Make and Model?
This is probably the most important question to ask because it directly impacts your wallet. If the autobody repair shop does not have much experience with your vehicle's make and model, then you should look somewhere else! It's vital that your autobody repair shop knows your vehicle inside and out because they will be able to make the best repair decisions and fit parts accurately the first time. As a Chevrolet dealership, we are complete experts on all Chevy makes and models. We don't just repair Chevy vehicles, though. We are thoroughly experienced with all major makes and models, and stay up to date with manufacturers' requirements.
When looking for a local autobody repair shop near you, it's best to use a dealership because we have more resources, certified technicians, and stock than independent shops. We stay stocked with factory Chevrolet parts, which saves you precious time by not having to wait for parts to be ordered. When you call Blossom Chevrolet Collision Center, tell us about your vehicle, and we'll put your mind at ease with our confidence and experience.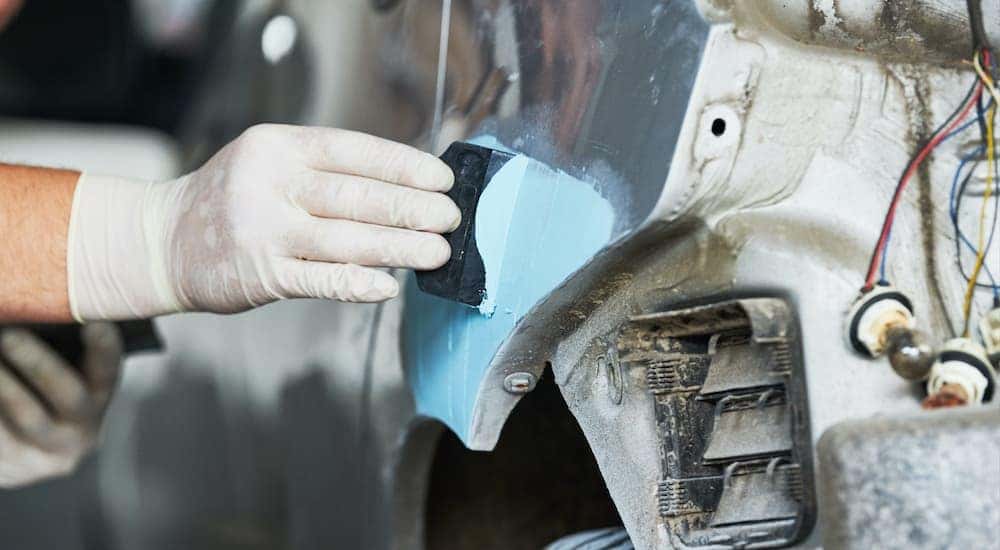 #2.Do You Work With My Insurance Company?
We know that major car repair can get complicated, maybe down-right stressful if not handled properly. The insurance company involved in your autobody repair will want to stay in the know throughout the process, and you need a repair shop that can have open communication with everyone. If the repair shop is relying on you to communicate updates to the insurance company or doesn't work with that particular insurance company, you should reconsider. You have enough on your plate, and you need someone who has direct knowledge of what's happening with your vehicle to update the insurance representatives.
At the Blossom Chevrolet Collision Center, we work with over 22 insurance companies and communicate directly with insurance representatives. We pride ourselves on professional, honest, and informed communication that will help this process go as smooth as possible and stress-free for you. Insurance claims need to be extremely accurate to ensure the right amount is paid by the right party, and our team is committed to doing our part in that process, so you don't have to stress.
#3.How Much Do You Charge for an Estimate?
If an autobody repair shop is trying to nickel and dime you for each interaction you have, it might raise a red flag in your mind. Do they see you as a person or just a transaction? Your repair shop should be confident that their estimate is so fair and timely that you won't want to use anyone else but them.
For Blossom Collision, the answer is simple; the estimates are free. We know you're making an investment to put your vehicle back in top condition and need to know what to expect without strings attached. The estimate we provide tells you what your vehicle needs the first time around. Our knowledge and expertise also tell us to look beyond the impact area to inspect for hidden damage. When we inspect the entire vehicle and find all the damage, both obvious and hard to see, early on, it allows us to give you a more accurate estimate and timeline. Not only are you not paying for an estimate, but you're also receiving the highest quality estimate and inspection for an autobody repair shop.
#4.What Kind of Parts Do You Use to Repair My Vehicle?
When you need major repairs to the exterior and interior of your vehicle, it's important for you to leave with your vehicle looking and feeling as you had it before the damage, if not even better. The point is, you want to drive away from the repair shop and not have anything stand out as different than before. The only way to achieve this is the type of parts used in your vehicle's repair. You need to ask your autobody repair shop what type of parts they use for their vehicles. Are they using factory parts or just looking for the cheapest part available? Sure, used parts might be cheaper, but it's extremely difficult to guarantee reliability on anything but new or factory parts.
You can rest assured that at Blossom Chevrolet Collision Center, we use the highest quality parts for all vehicles. Specifically, for Chevrolet vehicles, we are stocked with factory parts that work perfectly with your Chevy make and model. No matter the make or model, we use a state-of-the-art laser measuring system that ensures complete accuracy when fitting structural parts of your vehicle. We guarantee our repairs will meet your car manufacturer's specifications. Even with the finishing touches, our team is certified and experienced. Our paint-mixing system is innovative, durable, and has faster finishing times than traditional methods. Your vehicle will look brand new and ready to hit the road with parts you can be confident in for the lifetime of the vehicle.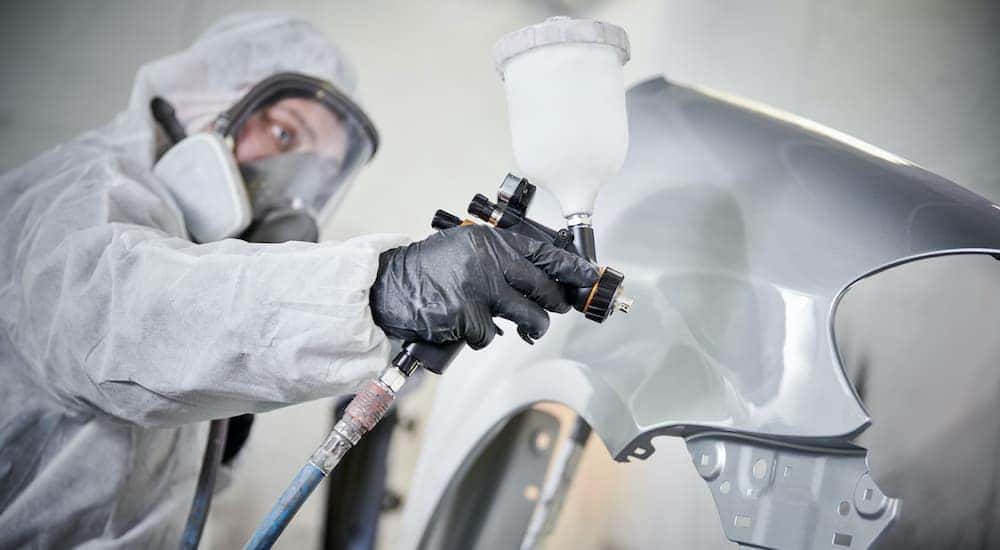 #5.How Long Will the Repair Take?
Asking your autobody repair shop how long the repair will take is essential. It holds the repair technicians accountable to the timeline they give you and allows you to arrange for accurate alternate transportation. From a customer service perspective, nothing keeps a customer more satisfied than a repair shop fixing your vehicle in a timely manner. An autobody repair shop that is experienced and has all the necessary parts can give you a more accurate timeline. To be fair, sometimes parts are on backorder, which impacts the timeline, but this should be communicated before repair starts.
This is probably the most popular question we receive, and we understand completely. You are already inconvenienced with a hefty repair that probably came about in stressful circumstances. The last thing you need is for repairs to be delayed and keep you in limbo longer. Know this; we work extra hard to provide you a timeline that we can stand by and doesn't extend farther than it needs to. With our process, we're able to find 90% of repair delays up front, and the other 10% of delays are largely due to backorder parts or needing subcontractors. We strive to give you a timeline of completion you can plan your life around and count on.
Autobody Repair Made Easy
Autobody repair isn't the most glamorous process to embark on, but we're passionate about it at the Blossom Chevrolet Collision Center. We do all the heavy lifting, so all you have to do is entrust us with your vehicle and come back to a beautiful car. We encourage everyone to do their research before starting the process. When you are more confident and know what to expect, it helps you make quick decisions that can save you time and money. Use these top five questions as a guide when looking for an autobody repair shop near you and see why Blossom Chevrolet is one of the best. Our team is ready to serve you and get you back on the road.